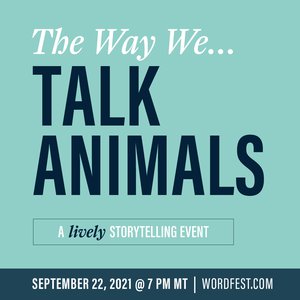 The Way We Talk Animals
Sep 22 @ 7 PM - 8:30 PM MT FREE
Online

Imagine On Air's storytelling series returns from summer vacation with The Way We Talk Animals, featuring four writers with four-legged protagonists: Pamela Korgemagi, Joni Murphy, Kai Cheng Thom, and Rachel Yoder.
Each will perform an open-mic style monologue on the theme, as well as answer questions from the host, Pam Rocker. The hour-long Imagine On Air event starts at 7:00 p.m. MT (The pre-show starts at 6:50 p.m. MT.) The livestream broadcast on Wordfest.com is free, and if you RSVP, we'll send you a reminder along with easy instructions to help you get set up, as well as our unique Digital Doggie Bag after the event with links and extras inspired by the conversation.
We are grateful to Arsenal Pulp Press, Book*hug Press, House of Anansi Press, and Penguin Random House Canada for helping us connect you with these writers.
THE STORYTELLERS
About Pamela Korgemagi  
Pamela Korgemagi is a graduate of York University's creative writing program. The Hunter and the Old Woman is her debut novel. She lives and works in Toronto.
About The Hunter and the Old Woman
The intertwined story of a cougar and a man that portrays the strength, vulnerability, and consciousness of two top predators. Not since Life of Pi have we encountered such transcendence or walked so fully in the footsteps of a big cat.
The "Old Woman" lives in the wild, searching for food, raising her cubs, and avoiding the two-legged creatures who come into her territory. But she is more than an animal — she is a mythic creature who haunts the lives and the dreams of men. Joseph Brandt has been captivated by the mountain lion's legend since childhood, and one day he steps into the forest to seek her out. A classic in the making, The Hunter and the Old Woman is a mesmerizing portrait of two animals united by a shared destiny.
About Joni Murphy
Joni Murphy is a writer from New Mexico who lives in New York. Her debut novel Double Teenage was published by Book*hug Press in 2016. It was named one of The Globe and Mail's 100 Best Books of the Year.
About Talking Animals
A fable for our times, Joni Murphy's Talking Animals takes place in an all animal world where creatures rather like us are forced to deal with an all-too-familiar landscape of soul-crushing jobs, polluted oceans, and a creeping sense of doom.
It's New York City, nowish. Lemurs brew espresso. Birds tend bar. There are bears on Wall Street, and a billionaire racehorse is mayor. Sea creatures are viewed with fear and disgust and there's chatter about building a wall to keep them out.
Alfonzo is a moody alpaca. His friend Mitchell is a sociable llama. They both work at City Hall, but their true passions are noise music and underground politics. Partly to meet girls, partly because the world might be ending, these lowly bureaucrats embark on an unlikely mission to expose the corrupt system that's destroying the city from within. Their project takes them from the city's bowels to its extremities, where they encounter the Sea Equality Revolutionary Front, who are either a group of dangerous radicals or an inspiring liberation movement.
In this novel, at last, nature kvetches and grieves, while talking animals offer us a kind of solace in the guise of dumb jokes. This is mass extinction as told by BoJack Horseman. This is The Fantastic Mr. Fox journeying through Kafka's Amerika. This is dogs and cats, living together. Talking Animals is an urgent allegory about friendship, art, and the elemental struggle to change one's life under the low ceiling of capitalism.
About Kai Cheng Thom
Kai Cheng Thom is a writer, performance artist, and community healer in Toronto. She is the author of the novel Fierce Femmes and Notorious Liars: A Dangerous Trans Girl's Confabulous Memoir (Metonymy Press), the poetry collection a place called No Homeland (an American Library Association Stonewall Honor Book in 2018), and the children's picture book From the Stars in the Sky to the Fish in the Sea, illustrated by Kai Yun Ching and Wai-Yant Li. Her latest book is the essay collection I Hope We Choose Love: A Trans Girl's Notes at the End of the World (an American Library Association Stonewall Honor Book in 2020). Thom won the Writers' Trust of Canada's Dayne Ogilvie Prize for LGBTQ Emerging Writers in 2017.
About For Laika: The Dog Who Learned the Names of the Stars
The heart-rending story of Laika, the brave canine space traveller.
By two of the co-creators of the acclaimed children's book From the Stars in the Sky to the Fish in the Sea: the moving and beautifully told story of Laika, the dog who learned the names of the stars. Laika is an orphaned stray dog who lives in the streets of Moscow in the 1950s in the then Soviet Union. Although she is loved by her pack, Laika longs to one day learn the names of the stars, since she knows that all dogs become stars when they die — including her parents. One day, a Russian scientist named Vlad offers Laika the chance to travel to the stars by helping him with an important experiment, an event that will change the entire world.
Part fable, part dog story, part history lesson, the story of Laika's brave and loving heart will captivate young and older readers alike, offering important lessons about world peace, science, and the deep bonds between humans and every other creature with whom we share the planet.
About Rachel Yoder
Rachel Yoder is a founding editor of draft: the journal of process. She holds M.F.A's from the University of Arizona (fiction) and the University of Iowa (nonfiction), where she was an Iowa Arts Fellow. Her stories and essays have been published in literary journals such as The Kenyon Review and The Missouri Review, as well as national outlets such as The New York Times, The Sun, and Lit Hub. Yoder lives in Iowa City with her husband and son.
About Nightbitch
One day, the mother was a mother, but then one night, she was quite suddenly something else...
In this blazingly smart and voracious debut, an artist turned stay-at-home mom becomes convinced she's turning into a dog.
An ambitious mother puts her art career on hold to stay at home with her newborn son, but the experience does not match her imagination. Two years later, she steps into the bathroom for a break from her toddler's demands, only to discover a dense patch of hair on the back of her neck. In the mirror, her canines suddenly look sharper than she remembers. Her husband, who travels for work five days a week, casually dismisses her fears from faraway hotel rooms.
As the mother's symptoms intensify, and her temptation to give into her new dog impulses peak, she struggles to keep her alter-canine-identity secret. Seeking a cure at the library, she discovers the mysterious academic tome which becomes her bible, "A Field Guide to Magical Women: A Mythical Ethnography," and meets a group of mommies involved in a multi-level-marketing scheme who may also be more than what they seem.
An outrageously original novel of ideas about art, power, and womanhood wrapped in a satirical fairy tale, Nightbitch will make you want to howl in laughter and recognition. And you should. You should howl as much as you want.
About Host Pam Rocker
Pam Rocker is a native Texan turned Albertan, atypical activist, award winning writer, speaker, and musician. Rocker has worked for over a decade for the full inclusion of LGBTQ2S+ people in faith communities and beyond. She was chosen as one of the Top 40 Under 40 in Calgary, and as one of the top 30 activists in Canada. She was a frequent panelist on CBC Radio's Unconventional Panel, is the Chair of Broadview Magazine, and an Instructor with YouthWrite Alberta and YOUth Riot. Rocker is currently the Director of Affirming Connections, performs queer feminist ukulele comedy music, and speaks and plays across in the US and Canada
Buy the Books:
The Hunter and the Old Woman
Owl's Nest Books | Shelf Life Books |  Indigo | Massy Books (BC)
Talking Animals
Owl's Nest Books | Shelf Life Books | Indigo | Massy Books (BC)
For Laika: The Dog Who Learned the Names of the Stars
Owl's Nest Books | Shelf Life Books | Indigo | Massy Books (BC)
Nightbitch
Owl's Nest Books | Shelf Life Books | Indigo | Massy Books (BC)
Borrow the Books:
The Hunter and the Old Woman
Talking Animals
For Laika: The Dog Who Learned the Names of the Stars
Nightbitch