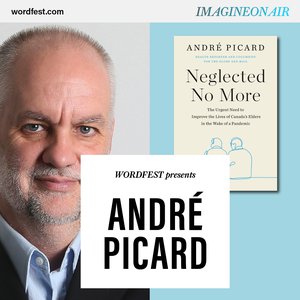 Wordfest presents André Picard
Mar 11 @ 7 PM - 8 PM MT
Online

Wordfest's Imagine On Air presents award-winning journalist André Picard and his timely new book Neglected No More: The Urgent Need to Improve the Lives of Canada's Elders in the Wake of a Pandemic. The hour-long conversation will start at 7:00 PM MT and will be hosted by Christina Frangou. (The pre-show will begin at 6:50 PM.) This live-stream event, broadcast on Wordfest.com, is free, but if you RSVP, we'll send you a reminder and easy instructions to help you get set up, as well as our unique Digital Doggie Bag after the event with links, goodies and references from the conversation.
We are grateful to Penguin Random House Canada for enabling us to connect you with André Picard. André has signed a limited number of bookplates, available exclusively with this title at Calgary's Owl's Nest Books.
About Neglected No More
It took the coronavirus pandemic to open our eyes to the deplorable state of so many of the nation's long-term care homes: the inhumane conditions, overworked and underpaid staff, and lack of oversight. In this timely new book, esteemed health reporter André Picard reveals the full extent of the crisis in eldercare, and offers an urgently needed prescription to fix a broken system.

When COVID-19 spread through seniors' residences across Canada, the impact was horrific. Along with widespread illness and a devastating death toll, the situation exposed a decades-old crisis: the shocking systemic neglect towards our elders.

Called in to provide emergency care in some of the hardest-hit facilities in Ontario and Quebec, the military issued damning reports of what they encountered. And yet, the failings that were exposed--unappetizing meals, infrequent baths, overmedication, physical abuse and inadequate personal care--have persisted for years in these institutions.

In Neglected No More, André Picard takes a hard look at how we came to embrace mass institutionalization and lays out what can and must be done to improve the state of care for our elders, a highly vulnerable population with complex needs and little ability to advocate for themselves. 

Picard shows that the entire eldercare system — fragmented, underfunded and unsupported—is long overdue for a fundamental rethink. We need to find ways to ensure seniors can age gracefully in the community for longer, with supportive home care and respite for family caregivers, and ensure that long-term care homes are not warehouses of isolation and neglect. Our elders deserve nothing less.
About André Picard
André Picard is a health reporter and columnist for the Globe and Mail, where he has been a staff writer since 1987. He is also the author of five bestselling books. André is an eight-time nominee for the National Newspaper Awards, Canada's top journalism prize, and past winner of a prestigious Michener Award for Meritorious Public Service Journalism. He was named Canada's first "Public Health Hero" by the Canadian Public Health Association, and a "Champion of Mental Health" by the Canadian Alliance on Mental Illness and Mental Health, and received the Queen Elizabeth II Diamond Jubilee Medal for his dedication to improving healthcare. A graduate of the University of Ottawa and Carleton University, Picard has received honorary doctorates from six universities, including UBC and the University of Toronto.
About Christina Frangou
Christina Frangou is a freelance journalist and writer in Calgary, Alberta, who specializes in writing about health, medicine, and social issues. She writes regularly for Maclean's, The Guardian and The Globe and Mail. Her 2016 story "The Widowhood Effect" about her experiences as a young widow garnered a National Newspaper Award for feature writing. Find more of her work at www.christinafrangou.com.
Buy the Book:
Borrow the Book from the Library:
Curiouser?
Interview:
André Picard on Health Reporting, What We Can Learn from the Pandemic, and Why We Probably Won't –The Tyee
André Picard on treating seniors with dignity after COVID-19 exposed a crisis –The National