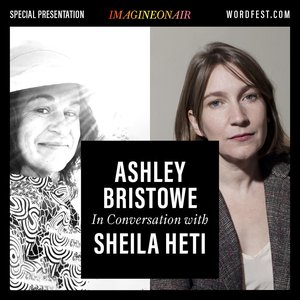 Wordfest presents Ashley Bristowe
Apr 20 @ 7 PM - 8 PM MT
Online

Wordfest's Imagine On Air presents Ashley Bristowe and her raw, refreshingly honest memoir My Own Blood. The hour-long conversation will start at 7:00 PM MT and will be hosted by the remarkable Sheila Heti. (The pre-show will begin at 6:50 PM.) The live stream, broadcast on Wordfest.com is free, and if you RSVP, we'll send you a reminder along with easy instructions to help you get set up, as well as our unique Digital Doggie Bag after the event with extras and highlights from the conversation.
We are grateful to Penguin Random House Canada for making it possible for us to connect you with Ashley Bristowe.
About My Own Blood: A Memoir
Mothering under normal circumstances takes all you have to give. But what happens when your child is disabled, and sacrificing all you've got and more is the only hope for a decent future? Full of rage and resilience, duty and love, Ashley Bristowe delivers a mother's voice like no other we've heard.
When their second child, Alexander, is diagnosed with a rare genetic disorder, doctors tell Ashley Bristowe and her husband that the boy won't walk, or even talk — that he is profoundly disabled. Stunned and reeling, Bristowe researches a disorder so new it's just been named – Kleefstra Syndrome – and she finds little hope and a maze of obstacles. Then she comes across the US-based "Institutes", which have been working to improve the lives of brain-injured children for decades. Recruiting volunteers, organizing therapy, juggling a million tests and appointments, even fundraising as the family falls deep into debt, Bristowe devotes years of 24/7 effort to running an impossibly rigorous diet and therapy programme for their son with the hope of saving his life, and her own. The ending is happy: he will never be a "normal" boy, but Alexander talks, he walks, he swims, he plays the piano (badly) and he goes to school.
This victory isn't clean and it's far from pretty; the personal toll on Bristowe is devastating. "It takes a village", people say, but too much of their village is uncomfortable with her son's difference, the therapy regimen's demands and the family's bottomless need. The health and provincial services bureaucracy set them a maddening set of hoops to jump through, showing how disabled children and their families languish because of criminally low expectations about what can be done to help.
My Own Blood is an uplifting story, but it never shies away from the devastating impact of a baby that science couldn't predict and medicine couldn't help. It's the story of a woman who lost everything she'd once been — a professional, an optimist, a joker, a capable adult — in sacrifice to her son. An honest account of a woman's life turned upside down.
About Ashley Bristowe
Ashley Bristowe has been a radio producer, development planner and a portrait and editorial photographer whose work has appeared around the world in print and online, from The Globe and Mail to Raygun to the South China Morning Post. In the 1980s she was the child star of ACCESS TV's Harriet's Magic Hats. She lives in Calgary with her family.
About Host Sheila Heti
Sheila Heti is the author of eight books of fiction and nonfiction, including the novels Motherhood and How Should a Person Be?, which was deemed one of the "New Classics of the 21st Century" by New York magazine. She was named one of "The New Vanguard" by The New York Times: one of 15 women writers from around the world who are "shaping the way we read and write fiction in the 21st century." In January 2022, she will publish her new novel, Pure Colour. Her books have been translated into 22 languages. She lives in Toronto.
Curiouser
The system is set up for special-needs kids to fail -Today's Parent
Exhausting, frustrating journey as mother of a special-needs child chronicled in My Own Blood -Calgary Herald
Buy the Book
Owl's Nest Books | Shelf Life Books
Borrow the Book