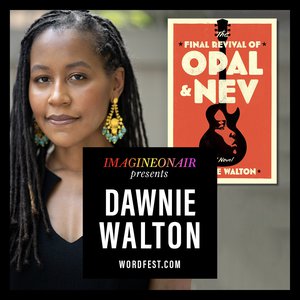 Imagine On Air presents Dawnie Walton
May 04 @ 7 PM - 8 PM MT
Online

Wordfest's Imagine On Air presents Dawnie Walton, author of one of this spring's most highly anticipated novels, The Final Revival of Opal & Nev. The hour-long conversation will start at 7:00 PM MT and will be hosted by Melanee Murray-Hunt. (The pre-show will begin at 6:50 PM.) The livestream broadcast on Wordfest.com is free, and if you RSVP, we'll send you a reminder on the afternoon of the show, as well as our unique Digital Doggie Bag the next day with links and extras sparked by the conversation.
We are grateful to Simon & Schuster Canada for making it possible for us to connect you with Dawn Walton.
NAMED A MOST ANTICIPATED BOOK OF 2021 BY ESSENCE, VOGUE, ELLE, GOODREADS, BOOKRIOT, HYPEBAE, LIT HUB, THE MILLIONS, POPSUGAR, AND OPRAH.COM
"Dawnie Walton's The Final Revival Of Opal & Nev is one of the most immersive novels I've ever read. This is largely because of Walton's skill at letting so many people talk in so many different ways. Voices are marshalled from across America, and then across the Atlantic, and blended seamlessly into a tale about black culture, black women American capitalism. This is a thrilling work of polyphony — a first novel, that reads like the work of an old hand." –Ta-Nehisi Coates, New York Times bestselling author of The Water Dancer and Between the World and Me
About The Final Revival of Opal & Nev
A kaleidoscopic fictional oral history of the beloved rock 'n' roll duo who shot to fame in 1970s New York, and the dark, fraught secret that lies at the peak of their stardom.
Opal is a fiercely independent young woman pushing against the grain in her style and attitude, Afro-punk before that term existed. Coming of age in Detroit, she can't imagine settling for a 9-to-5 job — despite her unusual looks, Opal believes she can be a star. So when the aspiring British singer/songwriter Neville Charles discovers her at a bar's amateur night, she takes him up on his offer to make rock music together for the fledgling Rivington Records.
In early seventies New York City, just as she's finding her niche as part of a flamboyant and funky creative scene, a rival band signed to her label brandishes a Confederate flag at a promotional concert. Opal's bold protest and the violence that ensues set off a chain of events that will not only change the lives of those she loves, but also be a deadly reminder that repercussions are always harsher for women, especially black women, who dare to speak their truth.
Decades later, as Opal considers a 2016 reunion with Nev, music journalist S. Sunny Shelton seizes the chance to curate an oral history about her idols. Sunny thought she knew most of the stories leading up to the cult duo's most politicized chapter. But as her interviews dig deeper, a nasty new allegation from an unexpected source threatens to blow up everything.
Provocative and chilling, The Final Revival of Opal & Nev features a backup chorus of unforgettable voices, a heroine the likes of which we've not seen in storytelling, and a daring structure, and introduces a bold new voice in contemporary fiction.
About Dawnie Walton
Dawnie Walton is a fiction writer and journalist whose work explores identity, place, and the influence of pop culture. She has won fellowships from the MacDowell Colony and the Tin House Summer Workshop, and earned her MFA from the Iowa Writers' Workshop. Previously she worked as an executive-level editor for magazine and multimedia brands including Essence, Entertainment Weekly, Getty Images, and LIFE. A native of Jacksonville, Florida, she lives with her husband in Brooklyn.
About Melanee Murray-Hunt
Melanee Murray-Hunt is an actor, writer, producer and filmmaker. Her recent credits as an actor include, Hallmark's Meet Me At Christmas, APTN's Tribal, the indie films Black and Blue and The Healing.
As a filmmaker she has written, directed and produced various short films including her film Race Anonymous which won for Best Drama at The Edmonton Short Film Festival as well as other accolades and awards across Canada and the United States. Murray-Hunt has written the Our Canada, Our Story series at Arts Commons for two years and is currently working as an actor on a new series being shot in Calgary. 
Buy the Book
Owl's Nest Books | Shelf Life Books
Borrow the Book
Curiouser?