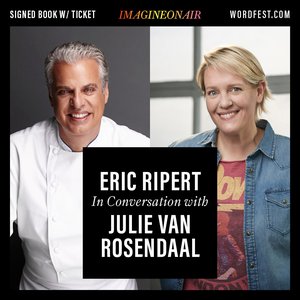 Imagine On Air presents Eric Ripert
Apr 28 @ 7 PM - 8 PM MT
Online

We think even hardcore carnivores will be eating more veggies after Wordfest's Imagine On Air presents Michelin-starred chef and famed NYC restaurateur Eric Ripert, in celebration of his new cookbook Vegetable Simple. The hour-long conversation will start at 7:00 PM MT and will be hosted by Calgary's exuberant food writer Julie Van Rosendaal. (The pre-show will begin at 6:50 PM.)
We are thrilled to be partnering with Calgary's The Cookbook Co. Cooks to offer this special book with ticket event, which includes a signed* copy of Vegetable Simple. (*bookplates)
Tickets are $34, plus tax. If you are in Calgary, you can pick up your copy at Cookbook Co. Their store will contact you as soon as your book is ready to be picked up or shipped. Expedited shipping outside of Calgary is an additional $18. In addition, you'll receive an email reminder the day of the event with easy instructions to help you get set up to watch, as well as our unique Digital Doggie Bag after the event with links and extras inspired by the conversation.
We know you will want to take advantage of this once-in-a-lifetime opportunity to ask Eric Ripert a question, and so we will be taking them in advance for this show. Please email your questions to questions@wordfest.com by midnight on Monday, April 26.
We are grateful to Penguin Random House Canada for making this extraordinary experience possible.
About Vegetable Simple: A Cookbook
NAMED ONE OF THE BEST COOKBOOKS OF THE YEAR BY PUBLISHERS WEEKLY 
From one of the world's most renowned chefs, 110 essential recipes that celebrate the beauty, simplicity, and elegance of vegetables.
Eric Ripert is the chef and co-owner of the acclaimed restaurant Le Bernardin, and the winner of countless Michelin stars, well known for his exquisite, clean, seafood-centered cuisine. But lately, Ripert has found himself reaching for vegetables as his main food source — and doing so, as is his habit, with great intent and care. 
In Vegetable Simple, Ripert turns his singular culinary imagination to vegetables: their beauty, their earthiness, their nourishing qualities, and the many ways they can be prepared. From vibrant Sweet Pea Soup to Fava Bean and Mint Salad, from warming Mushroom Bolognese to Roasted Carrots with Harissa, Ripert articulates a vision for vegetables that are prepared simply, without complex steps or ingredients, allowing their essential qualities to shine and their color and flavor to remain uncompromised. Complete with gorgeous photos by renowned photographer Nigel Parry, this is a necessary guide for the way we eat today.
About Eric Ripert
Eric Ripert is the chef and co-owner of the New York restaurant Le Bernardin, which holds three stars from the Michelin Guide and has maintained a four-star rating from The New York Times for more than two decades. He is vice chairman of the board of City Harvest, a New York-based food rescue organization, as well as a recipient of the Legion d'Honneur, France's highest honour. He serves as a regular guest judge on Bravo's Top Chef and is the host of his own TV series, Avec Eric, which has won Emmy and James Beard awards. Ripert is the author of five cookbooks, including Avec Eric, On the Line, A Return to Cooking, Le Bernardin — Four Star Simplicity, and My Best: Eric Ripert.
About Julie Van Rosendaal
Julie Van Rosendaal is the Calgary-based author of 11 best-selling cookbooks. She has been the food columnist on the Calgary Eyeopener on CBC Radio One for over 15 years, is the contributing food editor for The Globe and Mail, and for the past 20 years has been a freelance food writer and columnist for many Canadian publications. Van Rosendaal teaches, speaks, and cooks at culinary schools and events across the country, and has a very engaged audience on her social media channels and blog, Dinner with Julie.
Buy the Book
Borrow the Book
Curiouser?
Article:
New York's Le Bernardin Opens and Proves Fine Dining Is As Grand As Ever –Forbes 
Review: