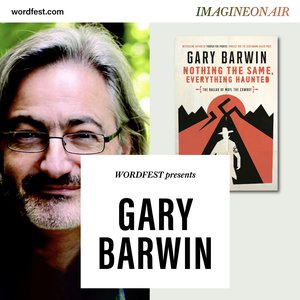 Wordfest presents Gary Barwin
Mar 25 @ 7 PM - 8 PM MT
Online

Wordfest's Imagine On Air presents award-winning Canadian author Gary Barwin and his new novel Nothing the Same, Everything Haunted. The hour-long conversation will start at 7:00 PM MT and will be hosted by Bill Richardson. (The pre-show will begin at 6:50 PM.) This live-stream event, broadcast on Wordfest.com, is free, but if you RSVP, we'll send you a reminder and easy instructions to help you get set up, as well as our unique Digital Doggie Bag after the event with links, goodies and references from the conversation.
We are grateful to Penguin Random House Canada for making it possible for us to connect you with Gary Barwin. Gary has signed a limited number of bookplates, available exclusively at Calgary's Shelf Life Books with this title.
About Nothing the Same, Everything Haunted
A middle-aged Jewish man who fantasizes about being a cowboy goes on an eccentric quest across Europe after the 1941 Nazi invasion of Lithuania in this wild and witty yet heartrending novel from the bestselling author of Yiddish for Pirates, shortlisted for the Scotiabank Giller Prize.
 
Motl is middle-aged, poor, nerdy, Jewish and in desperate need of a shave. Since having his balls shot cleanly off as a youth in WWI, he's lived a quiet life at home in Vilnius with his shrewd and shrewish mom, Gitl, losing himself in the masculine fantasy world of cowboy novels by writers like Karl May—novels equally loved by Hitler, whose troops have just invaded Lithuania and are out to exterminate people like Motl. In his dreams, Motl is a fast-talking, rugged, expert gunslinger capable of dealing with the Nazi threat. But only in his dreams.

As friends and neighbours are killed around them, Motl and Gitl escape from Vilnius, saving their own skins. But they immediately risk everything to try rescue relatives they hope are still alive. With death all around him, Motl decides that a Jew's best revenge is not only to live, but to procreate. In order to achieve this, though, he must relocate those most crucial pieces of his anatomy lost to him in a glacier in the Swiss Alps in the previous war. It's an absurd yet life-affirming mission, made even more urgent when he's separated from his mother, and isn't sure whether she's alive or dead. Joining forces, and eventually hearts, with Esther, a Jewish woman whose family has been killed, Motl ventures across Europe, a kaleidoscope of narrow escapes and close encounters with everyone from Himmler, to circus performers, double agents, quislings, fake "Indians" and real ones. Motl at last figures out that he has more connection to the Indigenous characters in western novels than the cowboys.

An imaginative and deeply felt exploration of genocide, persecution, colonialism and masculinity—saturated in Gary Barwin's sharp wit and perfect pun-play—Nothing the Same, Everything Haunted: The Ballad of Motl the Cowboy is a one-of-a-kind novel of sheer genius.
About Gary Barwin
Gary Barwin is a writer, composer, multidisciplinary artist, and the author of twenty-one books of poetry, fiction and books for children. His bestselling novel Yiddish for Pirates won the Stephen Leacock Medal for Humour as well as the Canadian Jewish Literary Award (Fiction) and the Hamilton Literary Award (Fiction). It was also a finalist for both the Governor General's Award for Fiction and the Scotiabank Giller Prize. Barwin's recent books include the short fiction collection I, Dr Greenblatt, Orthodontist, 251-1457 and the poetry collections Moon Baboon Canoe and The Wild and Unfathomable Always. A PhD in music composition, Barwin has been Writer-in-Residence at Western University and Young Voices eWriter-in-residence at the Toronto Public Library and has taught creative writing at a number of colleges and universities. Born in Northern Ireland to South African parents of Ashkenazi descent, Barwin moved to Canada as a child. He is married with three adult children, and lives in Hamilton, Ontario. 
About Bill Richardson
Bill Richardson lives in Vancouver and writes for children and adults. He was the host of Richardson's Roundup on CBC Radio One from 1997-2004.  His first novel, Bachelor Brothers' Bed and Breakfast won the Stephen Leacock Medal for Humour in 1994. His books for young readers include The Alphabet Thief and The Promise Basket, both published by Groundwood Books.  I Saw Three Ships: West End Stories was published in 2020 by Talonbooks. Hare B&B, a picture book with illustrations by Bill Pechet, is forthcoming from Running the Goat Books and Broadsides.   
Buy the Book:
Borrow the Book from the Library:
Curiouser?
Interview:
The Chat With 2016 Giller Finalist Gary Barwin – 48th Shelf
Review: 
Nothing the Same, Everything Haunted: The Ballad of Motl the Cowboy – Brain Pickings