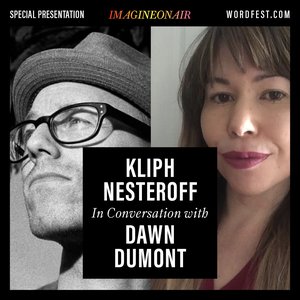 Wordfest presents Kliph Nesteroff
Apr 13 @ 7 PM - 8 PM MT
Online

Wordfest's Imagine On Air presents comic historian Kliph Nesteroff and his fascinating new book, We Had a Little Real Estate Problem: The Unheralded Story of Native Americans & Comedy. The hour-long conversation will start at 7:00 PM MT and will be hosted by Plains Cree comedian, actor, and writer Dawn Dumont. (The pre-show will begin at 6:50 PM.) This livestream broadcast is free and if you RSVP, we'll send you a reminder on the day of the show, as well as our unique Digital Doggie Bag after the event with extras and links sparked by the conversation.
We are grateful to Simon & Schuster Canada for making it possible for to connect you with Kliph Nesteroff.
About We Had a Little Real Estate Problem: The Unheralded Story of Native Americans & Comedy  
"A remarkable book that takes the history of Native American comedy and turns it into a page-turner. It seems like there's a revelation in every one of its tight chapters. Applause for the book and the exciting artists who populate it." -Steve Martin
"Kliph Nesteroff explores an overlooked side of comedy in We Had a Little Real Estate Problem. From its account of Native American marginalization to the Cherokee roots of Will Rogers, from the inspiring story of Charlie Hill to the new wave of young, hilarious, Indigenous comedians, this book is a game changer." -Judd Apatow
From Kliph Nesteroff, "the human encyclopedia of comedy," comes the important and underappreciated story of Native Americans and comedy.

It was one of the most reliable jokes in Charlie Hill's stand-up routine: "My people are from Wisconsin. We used to be from New York. We had a little real estate problem."

In We Had a Little Real Estate Problem, Kliph Nesteroff focuses on one of comedy's most significant and little-known stories: how, despite having been denied representation in the entertainment industry, Indigenous Americans have influenced and advanced the art form.

The account begins in the late 1880s, when Native Americans were forced to tour in wild west shows as an alternative to prison. (One modern comedian said it was as "if a Guantanamo detainee suddenly had to appear on X-Factor".) This is followed by a detailed look at the life and work of seminal figures such as Cherokee humorist Will Rogers and Hill, who, in the 1970s, was the first Native American comedian to appear The Tonight Show.

Also profiled are several contemporary comedians, including Jonny Roberts, a social worker from the Red Lake Nation who drives five hours to the closest comedy club to pursue his stand-up dreams; Kiowa-Apache comic Adrianne Chalepah, who formed the touring group the Native Ladies of Comedy; and the 1491s, a sketch troupe whose satire is smashing stereotypes to critical acclaim. As Ryan Red Corn, the Osage member of the 1491s, says: "The American narrative dictates that Indians are supposed to be sad. It's not really true and it's not indicative of the community experience itself…Laughter and joy is very much a part of Native culture."

Featuring dozens of original interviews and the exhaustive research that is Nesteroff's trademark, We Had a Little Real Estate Problem is a powerful tribute to a neglected legacy.
About Kliph Nesteroff
Kliph Nesteroff is a former stand-up comedian and best-selling author regarded for his vast knowledge of show business. Recently dubbed the "premier popular historian of comedy" by The New York Times, he has been a contributor to CBC Radio One and WFMU, and is currently a regular on National Public Radio affiliates across the United States. He's also appeared on WTF with Marc Maron three times. Originally from South Slocan, B.C. (where he was expelled from high school for giving a speech exposing "salacious dirty laundry" about the teachers), he lives in Los Angeles.
About host Dawn Dumont
Dawn Dumont is the award-winning writer of Nobody Cries at Bingo, Rose's Run, and Glass Beads. Her fourth book, The Tour, will be published this fall. She is of Cree and Metis descent and her first nation is the Okanese Cree Nation. 
Buy the Book
Owl's Nest Books | Shelf Life Books
Borrow the Book
Curiouser?
Articles: