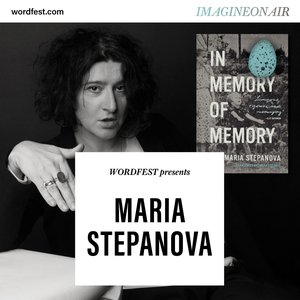 Wordfest presents Maria Stepanova
Mar 23 @ 7 PM - 8 PM MT
Online

Wordfest's Imagine On Air is thrilled to present Maria Stepanova, author of In Memory of Memory, the internationally acclaimed debut novel newly translated into English. The hour-long conversation will start at 7:00 PM MT and will be hosted by Leanne Shapton. (The pre-show will begin at 6:50 PM.) This live-stream conversation, broadcast on Wordfest.com, is free, but if you RSVP, we'll send you a reminder and easy instructions to help you get set up, as well as our unique Digital Doggie Bag after the event with links, extras and references from the conversation.
We are grateful to Book*hug Press for enabling us to connect you with Maria Stepanova.
About In Memory of Memory
"In Memory of Memory has that trick of feeling both completely original and already classic, and I confidently expect this translation to bring Maria Stepanova a rabid North American fan base on the order of the one she already enjoys in Russia."

–Elif Batuman, author of The Idiot, nominated for the Pulitzer Prize for Fiction
An exciting new Russian writer explores terra incognita: the still-living margins of history.
Following the death of her aunt, the narrator of In Memory of Memory is left to sift through an apartment full of faded photographs, old postcards, letters, diaries, and heaps of souvenirs: a withered repository of a century of life in Russia. Carefully reassembled with calm, steady hands, these shards tell the story of how a seemingly ordinary Jewish family somehow managed to survive the myriad persecutions and repressions of the last century.
In dialogue with writers like Roland Barthes, W. G. Sebald, Susan Sontag, and Osip Mandelstam, In Memory of Memory is imbued with rare intellectual curiosity and a wonderfully soft-spoken, poetic voice. Dipping into various forms — essay, fiction, memoir, travelogue, and historical documents — Stepanova assembles a vast panorama of ideas and personalities and offers an entirely new and bold exploration of cultural and personal memory.
About Maria Stepanova
Maria Stepanova, born in Moscow in 1972, is one of the most powerful and distinctive voices of Russia's first post-Soviet literary generation. An award-winning poet and prose writer, essayist, and journalist, Stepanova is the author of ten poetry collections and three books of essays. Her poems have been translated into numerous languages including English, Italian, German, French, and Hebrew. She has received several Russian and international literary awards, including the prestigious Andrey Bely Prize and Joseph Brodsky Fellowship. Her novel In Memory of Memory is a documentary novel that has been published in over 17 territories. It won the 2018 Bolshaya Kniga Award, an annual Russian literary prize presented for the best book of Russian prose, and the 2019 NOS Literature Prize. Stepanova is the founder and Editor-in-Chief of the online independent crowd-sourced journal Colta.ru, which covers the cultural, social and political reality of contemporary Russia, reaching audiences of nearly a million visitors a month.
About Leanne Shapton
Leanne Shapton is an author, artist, and publisher based in New York City. She is the co-founder, with photographer Jason Fulford, of J&L Books, an internationally-distributed not-for-profit imprint specializing in art and photography books. Shapton is a fellow of the Royal Canadian Geographical Society. She grew up in Mississauga, Ontario, Canada. Her memoir Swimming Studies won the 2012 National Book Critic's Circle Award for autobiography, and was long listed for the William Hill Sports Book of the Year 2012.
Buy the Book:
Owl's Nest Books | Shelf Life Books
Curiouser?
Articles:
"'Love's labours should be lost': Maria Stepanova, Russia's next great writer" –The Guardian
A Writer Shakes Her Family Tree, and Cherishes Every Leaf –The New York Times 
Someone Else's Diary: Read an excerpt from In Memory of Memory  –The Paris Review
Review: