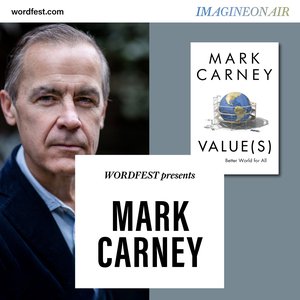 Wordfest presents Mark Carney
Mar 30 @ 7 PM - 8 PM MT
Online

Imagine On Air is pleased to present renowned economist and former bank governor Mark Carney and his ground-breaking new book on affecting positive change: Value(s): Building a Better World for All.
The hour-long conversation will start at 7:00 PM MT and will be hosted by political strategist Zain Velji. (The pre-show will begin at 6:50 PM MT.) This livestream broadcast is free and if you RSVP, we'll send you a reminder on the day of the show, as well as our unique Digital Doggie Bag after the event with extras and links sparked by the conversation.
We are grateful to Penguin Random House Canada for making it possible for us to connect you with Mark Carney.
About Value(s) 
"Mark Carney draws on his unique experience of running two central banks to offer original and thought provoking solutions to the world's biggest challenges — from COVID to climate change." —Gordon Brown, former U.K. Prime Minister
"Value(s) is a radical book and speaks out accessibly as to how we get everyone involved in solving our problems. And this is what we need: 50 Shades of People for 50 Shades of Green. Great leadership is not a bull horn but rather, as Mark Carney shows, a set of clear instructions in a smoke-filled room." —Bono
A bold and urgent argument by economist and former bank governor Mark Carney on the radical, foundational change that is required if we are to build an economy and society based not on market values but on human values.

Our world is full of fault lines — growing inequality in income and opportunity; systemic racism; health and economic crises from a global pandemic; mistrust of experts; the existential threat of climate change; deep threats to employment in a digital economy with robotics on the rise. These fundamental problems and others like them, argues Mark Carney, stem from a common crisis in values. Drawing on the turmoil of the past decade, Carney shows how "market economies" have evolved into "market societies" where price determines the value of everything. 
When we think about what we, as individuals, value most highly, we might list fairness, health, the protection of our rights, economic security from poverty, the preservation of natural diversity, resources, and beauty. The tragedy is, these things that we hold dearest are too often the casualties of our twenty-first century world, where they ought to be our bedrock.
In this profoundly important new book, Carney offers a vision of a more humane society and a practical manifesto for getting there. How we reform our infrastructure to make things better and fairer is at the heart of every chapter, with outlines of wholly new ideas that can restructure society and enshrine our human values at the core of all that we build for our children and grandchildren.
About Mark Carney
Mark Carney is the U.N. Special Envoy for Climate Action and Finance and the U.K.'s Finance Advisor for COP26. Carney was previously Governor of the Bank of England (2013-2020), and Governor of the Bank of Canada (2008-2013).

Internationally, Carney was Chair of the Financial Stability Board (2011-2018). He chaired the Global Economy Meeting and Economic Consultative Committee of the Bank for International Settlements (2018-2020), and was First Vice-Chair of the European Systemic Risk Board (2013-2020). He is a member of the Group of Thirty, the Foundation Board of the World Economic Forum, and the boards of Bloomberg Philanthropies, the Peterson Institute for International Economics, and the Hoffman Institute for Global Business and Society at INSEAD.

Carney obtained a bachelor degree in Economics from Harvard and masters and doctorate degrees in Economics from Oxford. Born in Fort Smith, NWT, he lives in Ottawa.
About Zain Velji 
Zain Velji is Partner and VP Strategy for Northweather, working with both companies and non-profits, as well as political campaigns. He was campaign manager for Calgary Mayor Naheed Nenshi's 2017 run and worked on the campaigns for US Senator Elizabeth Warren and US President Barack Obama.
Velji is the host of the award-winning podcast "The Strategists", where he dissects political strategy and public affairs issues, and his writing has appeared in the Toronto Star, The Globe and Mail, and The National Post. He is a frequent public speaker and regular political commentator on CBC radio and television and co-hosted the 2019 federal election for CTV.
Buy the Book (signed books - bookplate - available from):
Borrow the Book from the Library:
Curiouser? 
Article:
Former bank of Canada governor Mark Carney to write a book offering a way forward out of Covid-19 -The Toronto Star    
Listen:
Mark Carney Says post-pandemic 'bump' not enough for smooth recovery -CBC Ideas