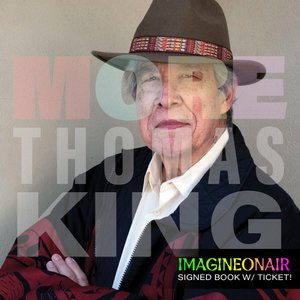 Wordfest presents Thomas King
Jun 01 @ 7 PM - 8 PM MT
Online

Wordfest is honoured to present a very special Imagine On Air event with Thomas King upon the publication of his new novel Sufferance. The hour-long conversation will start at 7:00 PM MT and will be hosted by Iris Tupholme, Executive Publisher at HarperCollins and King's longtime editor. (The pre-show will begin at 6:50 PM.)
We are thrilled to be partnering with Calgary's Owl's Nest Books to offer this special book with ticket event, which includes a copy of Sufferance. 
Tickets are $32, plus tax. If you are in Calgary, please choose either complimentary home delivery or to pick up at Owl's Nest Books in the Britannia Shopping Plaza. Expedited shipping outside of Calgary is an additional $13. The official on sale date is May 18, which is when the books will be available for pick up in store, in Calgary delivery, or shipping.
You'll receive an email reminder the day of the event with easy instructions to help you get set up to watch, as well as our unique Digital Doggie Bag after the event with links and extras inspired by the conversation.
We are so grateful to HarperCollins Canada for making it possible for us to connect you with Thomas King.
About Sufferance
Jeremiah Camp, a.k.a. the Forecaster, can look into the heart of humanity and see the patterns that create opportunities and profits for the rich and powerful. Problem is, Camp has looked one too many times, has seen what he hadn't expected to see and has come away from the abyss with no hope for himself or for the future. 
So Jeremiah does what any intelligent, sensitive person would do. He runs away. Goes into hiding in a small town, at an old residential school on an even smaller Indian reserve, with no phone, no Internet, no television. With the windows shut, the door locked, the mailbox removed to discourage any connection with the world, he feels safe at last. Except nobody told the locals that they were to leave Jeremiah alone.
And then his past comes calling. Ash Locken, head of the Locken Group, the multinational consortium that Jeremiah has fled, arrives on his doorstep with a simple proposition. She wants our hero to formulate one more forecast, and she's not about to take no for an answer. Before he left the Locken empire, Jeremiah had created a list of twelve names, every one a billionaire. The problem is, the people on the list are dying at an alarming and unnatural rate. And Ash Locken wants to know why.
A sly and satirical look at the fractures in modern existence, Sufferance is a bold and provocative novel about the social and political consequences of the inequality created by privilege and power — and what we might do about it.
About Thomas King
Thomas King is an award-winning novelist, short story writer, scriptwriter, and photographer. His critically acclaimed, bestselling books include Medicine River; Green Grass, Running Water; One Good Story, That One; Truth and Bright Water; A Short History of Indians in Canada; The Back of the Turtle (winner of the Governor General's Literary Award for Fiction); The Inconvenient Indian (winner of the RBC Taylor Prize); the DreadfulWater mystery series, including most recently Obsidian; Indians on Vacation (shortlisted for The 2020 Writers Trust Fiction Prize and longlisted for the 2020 Scotiabank Giller Prize); and the poetry collection 77 Fragments of a Familiar Ruin (shortlisted for the Nelson Ball Prize). A Companion of the Order of Canada and the recipient of a National Aboriginal Achievement Award, he lives in Guelph, Ontario.
About Iris Tupholme
Iris Tupholme is SVP, Executive Publisher at HarperCollins Publishers Ltd., a role she has held for three decades. In addition to leading the publishing team at HarperCollins, Tupholme is an award-winning editor whose many authors have taken a leading place in Canadian arts and letters. In addition to Thomas King, Tupholme is the publisher of many esteemed and award-winning authors, including Lawrence Hill, Emma Donoghue, Hilary Mantel, Zoe Whittall, Elisabeth de Mariaffi, Colum McCann, Matt Haig, Heather O'Neil, Shilpi Somaya Gowda, Rosemary Sullivan, Cathy Marie Buchanan, among many others. Tupholme was born in Saskatchewan and lived in northern Ontario before moving to the Toronto area. She is a graduate of the University of Guelph, the University of Toronto, Ryerson College and the Rotman School of Business (MBA Essentials). She was chosen as the Editor of the Year in 2013 by Canadian Booksellers. Tupholme has been a Fellow in Sydney, Jerusalem, and Scotland and is the Founding Chair of the International Visitors Programme at Harbourfront, now in its fourteenth year.