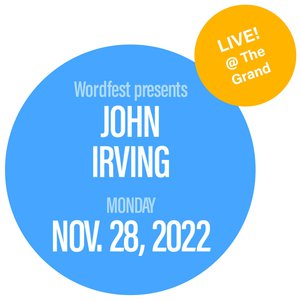 Wordfest presents John IrvingHosted by Eric Volmers
Wordfest is honoured to present the legendary John Irving in celebration of his much-anticipated new novel, The Last Chairlift. The 75-minute conversation, hosted by Calgary Herald feature writer Eric Volmers, starts at 7 PM MT and includes an audience Q&A. Owl's Nest Books will have copies of this instant bestseller for sale at the event. Please note that there will be no book signing.
We are grateful to Penguin Random House Canada for making it possible for us to connect you with John Irving.
About The Last Chairlift
"It is impossible to imagine the American – or international – literary landscape without John Irving…. He is as close as one gets to a contemporary Dickens in the scope of his celebrity and the level of his achievement." -Time Magazine
One of the world's greatest novelists returns with his first novel in seven years — a ghost story and a love story, spanning eight decades of sexual politics.

John Irving has written some of the most acclaimed books of our time — among them, The World According to Garp, The Cider House Rules, A Prayer for Owen Meany, and A Widow for One Year. Time magazine describes his work as "epic and extraordinary and controversial and sexually brave." Now Irving has written what he calls his last long novel — only shorter ones ahead.
In Aspen, Colorado, in 1941, Rachel Brewster is a slalom skier at the National Downhill and Slalom Championships. Little Ray, as she is called, finishes nowhere near the podium, but she manages to get pregnant. Back home, in New England, Little Ray becomes a ski instructor. Her son, Adam, grows up in a family that defies conventions and evades questions concerning the eventful past. Years later, looking for answers, Adam will go to Aspen. In the Hotel Jerome, where he was conceived, Adam will meet some ghosts; they aren't the first or the last ghosts he sees.
If you've never read a John Irving novel, you'll be captivated by storytelling that is tragic and comic, embodied by characters you'll remember long after you've finished their story. If you have read John Irving before, you'll rediscover the themes that made him a bard of alternative families — a visionary voice on the subject of sexual freedom. The author's favourite tropes are here, but this meticulously plotted novel has powerful twists in store for readers. The Last Chairlift breaks new artistic ground for Irving, who has been called "among the very best storytellers at work today" (The Philadelphia Inquirer); "the American Balzac" (The Nation); "a pop star of literature, beloved by all generations" (Süddeutsche Zeitung, Munich); and "the voice of social justice and compassion in contemporary American literature" (The Globe and Mail). With The Last Chairlift, readers will once again be in John Irving's thrall.
About John Irving
John Irving was born in Exeter, New Hampshire, in 1942. His first novel, Setting Free the Bears, was published in 1968, when he was 26. He competed as a wrestler for twenty years, and coached wrestling until he was forty-seven. In 1992, he was inducted into the National Wrestling Hall of Fame in Stillwater, Oklahoma. Irving has been nominated for a National Book Award three times — winning once, in 1980, for his novel The World According to Garp. In 2000, he won the Oscar for Best Adapted Screenplay for The Cider House Rules. In 2013, Irving won a Lambda Literary Award for his novel In One Person. An international writer, his books have been translated into more than 35 languages. A Prayer for Owen Meany is his best-selling novel, in every language. A dual citizen of the United States and Canada, Irving lives in Toronto.
About Host Eric Volmers
Eric Volmers was born in Cambridge, Ont. And has lived in Calgary for the past 17 years. For most of that time, he was worked as a journalist covering the arts for Postmedia with a special interest in books. He reads a lot.