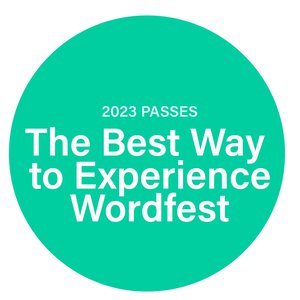 2023 Passes
Meet incredible authors, thinkers and doers. Expand your circle. Make lasting connections. Customize your 2023 Wordfest experience with these special pass options. *If you have already purchased tickets to a 2023 Wordfest show, we'll adjust the price of the pass accordingly. Please email us at boxoffice@wordfest.com before completing your pass order.
Imaginairium Festival Pass: $165 + GST & Fees
Gain access to all regular festival events between October 11 to 15, 2023. You can reserve tickets in advance (subject to availability) or be admitted on a first come, first served basis at the door. This pass excludes enhanced limited-capacity Imaginairium experiences (e.g. with a food, beverage, or book-with-ticket component), and shows occurring outside the fall festival program.
The All-Inclusive Pass: $700 + GST*
Limited quantity available. Gain admission to all Imaginarium Festival shows (October 11 to 15, 2023) as well as every year-round event to the end of December 2023. This All-Access pass covers admission to all special events and VIP experiences (RSVP required). *Includes $48.75 Showpass Ticketing Fee. Valid until December 31, 2023.