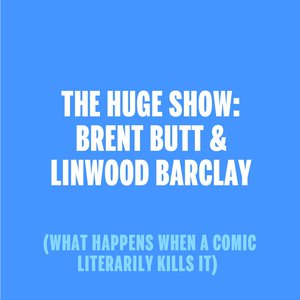 The Huge Show starring Brent Butt & Linwood Barclay
What happens when a stand-up comic kills? Not as in metaphorically leaving the audience laughing so hard they can't catch their breath, but as in actually kills his fellow comics, leaving bloodstains, chalk outlines and a rising body count.
Who better to take this brutally clever scenario and run with it than Brent Butt (Corner Gas), voted Best Male Stand-Up in Canada and winner of multiple Writers Guild Awards. Says mensch Linwood Barclay (who is graciously  hosting this special evening) about his friend's debut thriller Huge: "Butt kills with a darkly comic thriller that could only be written by someone who knows there are worse things than dying on stage." Think of Barclay as James Patterson and Butt as Bill Clinton, then give it a great twist! 
This event is part of Wordfest's Imaginairium festival, Oct. 11-15, 2023. Connect with 50+ the world's most arresting writers, thinkers, activators and inspirers, gathered just for you in Calgary, Canada. For more info: wordfest.com