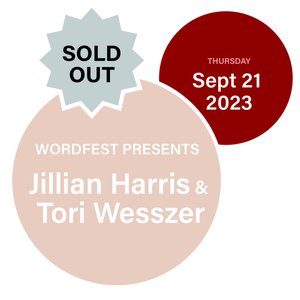 Wordfest Presents Jillian Harris & Tori Wesszer
Sep 21 @ 7 PM - 8:15 PM MT
Patricia A. Whelan Performance Hall, Central Library
800 3 Street SE
SOLD OUT IN RECORD TIME! Click here to join the waitlist. (Thank you, Wordfesters, for your remarkable support. Please encourage your friends and family to sign up for our e-blast to make sure they're the first to hear about even more stellar authors coming to Calgary this year.)
Wordfest is delighted to present exuberant cousins Jillian Harris and Tori Wesszer and their new cookbook Fraiche Food, Fuller Hearts. This special event, which starts at 7 PM MT, includes a conversation hosted by Joelle Tomlinson, followed by an audience Q&A and meet and greet. The ticket price includes a copy of the new book (sure to be an instant bestseller and beloved kitchen go-to), along with an exclusive tote created just for you.
The Cookbook Co. Cooks will be on site with extra copies of the duo's new book, as well as their previous bestseller Fraiche Food, Full Hearts. 
We are grateful to Penguin Random House Canada for making it possible for us to connect you with Jillian Harris and Tori Wesszer.
About Fraiche Food, Fuller Hearts
TV host and lifestyle influencer Jillian Harris and registered dietitian Tori Wesszer invite you into their world full of family, food, and casual celebrations.

Living a stone's throw from each other, cousins Jillian Harris and Tori Wesszer grew up in a tight-knit family and were brought up like sisters. Fraiche Food, Fuller Hearts offers a peek into their lives and the recipes that have fed their families through the years. Instilled with a love of cooking at an early age by their granny, the kitchen is a place of fond memories and everyday home cooked meals. Like most families, their celebrations revolve around food — from birthdays, Valentine's Day, Mother's Day, Thanksgiving, Christmas, and New Year's Eve.  

Fraiche Food, Fuller Hearts includes more than 100 heart-warming recipes — from breakfasts, soups, salads, veggies, sides, and mains to snacks, appetizers, drinks, and desserts — for everyday meals, along with celebration menus and ideas for casual gatherings with family and friends. Gorgeously designed with dreamy full-colour photography throughout, the recipes also incorporate vegan, vegetarian, and gluten-free options. You'll find dishes like West Coast Eggs Benny, Vanilla Cherry Scones, Harvest Kale Salad, Squash Risotto with Fried Sage, Granny's Beet Rolls, Cedar-Plank Salmon Burgers, Veggie Stew with Dumplings, Cherry Sweetheart Slab Pie, and Naked Coconut Cake.
About Jillian Harris
Jillian Harris is the founder and creative director of Jillian Harris Design and The Jilly Academy, co-author of the bestseller Fraiche Food, Full Hearts, and co-founder of The Jilly Box. Jillian is passionate about love, family, philanthropy, advocacy, fashion, food, decor, and much more. Jillian's signature style is both classic and feminine, and her eye for design and decor is enviable. Her work with local charities fuels her desire to help those in need and give back to those less fortunate. Her biggest passion is her family, which includes her fiancé Justin Pasutto, son Leo, daughter Annie, and dogs Nacho Cilantro and Peaches Pasutto. 

About Tori Wesszer
Tori Wesszer is the founder of Fraîche Living, a lifestyle blog where she shares her passion for good food made with love along with ideas for making life simpler and more beautiful; founder of the Fraîche Table meal plan; a registered dietitian; and co-author of the bestseller Fraiche Food, Full Hearts. Tori and her husband Charles, share a love for good food and their young sons, Charlie and Max, are already rolling up their sleeves in the kitchen. Passionate about giving back, Tori and her team at Fraîche Living support a variety of charities both locally and globally.
About Host Joelle Tomlinson
Joelle Tomlinson is an accomplished and versatile journalist, known for her passion, professionalism, and captivating storytelling. Born and raised in Saskatoon, she pursued her higher education at TMU University in Toronto, where she graduated on the Dean's List with a Journalism degree.
With a career spanning more than a decade, Tomlinson has served as the anchor and producer of CTV Morning Live in Calgary from 2017 to 2023, becoming a familiar face in households across the city. She was awarded the "Emerging Leader" award in 2017 from the Western Association of Broadcasting and was nominated for a RTDNA award for involvement with the Calgary Stampede Parade coverage in 2022. Her engaging presence and informative reporting made her a trusted source of news and information for viewers.

In addition to her reporting, Tomlinson has been actively involved in community initiatives, recognizing the importance of giving back and making a positive impact. She is particularly passionate about mental health and addictions initiatives, after losing her own brother to a drug overdose in 2015. She is also committed to giving underrepresented communities a voice and is a strong believer in representation in every sector.