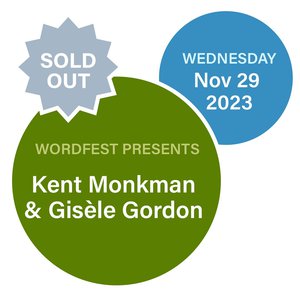 Wordfest Presents Kent Monkman & Gisèle Gordon
Nov 29 @ 7 PM - 8:15 PM MT
Patricia A. Whelan Performance Hall, Central Library
800 3 Street SE
Wordfest presents global art superstar Kent Monkman and settler artist Gisèle Gordon in celebration of their two-volume, genre-bending masterwork: The Memoirs of Miss Chief Eagle Testickle: A True and Exact Accounting of the History of North America Turtle Island. The show, which starts at 7PM MT, includes a special presentation by Chief Eagle Testickle and a conversation with Monkman and Gordon, followed by an audience Q & A. There will be pre-signed copies of both books available for purchase at the show, courtesy of Shelf Life Books.
For the wellbeing of the authors and the audience, masks are strongly encouraged at this event. We will have masks available at the door. 
We are grateful to Penguin Random House Canada for making it possible for Wordfest to connect you with Kent Monkman and Gisèle Gordon.
About The Memoirs of Miss Chief Eagle Testickle: A True and Exact Accounting of the History of North America Turtle Island
From global art superstar Kent Monkman and his long-time collaborator Gisèle Gordon, a transformational work of true stories and imagined history that will remake readers' understanding of the land called North America.

For decades, the singular and provocative paintings by Cree artist Kent Monkman have featured a recurring character – an alter ego of sorts, a shape-shifting, time-travelling elemental being named Miss Chief Eagle Testickle. Though we have glimpsed her across the years, and on countless canvases, it is finally time to hear her story, in her own words. And, in doing so, to hear the whole history of Turtle Island anew. The Memoirs of Miss Chief Eagle Testickle: A True and Exact Accounting of the History of Turtle Island is a genre-demolishing work of genius, the imagined history of a legendary figure through which a profound truths emerge – a deeply Cree and gloriously queer understanding of our shared world, its past, its present, and its possibilities.

Volume Two, which takes us from the moment of confederation to the present day, is a heartbreaking and intimate examination of the tragedies of the nineteenth and twentieth century. Zeroing in on the story of one family told across generations, Miss Chief bears witness to the genocidal forces and structures that dispossessed and attempted to erase Indigenous peoples. Featuring many figures pulled from history as well as new individuals created for this story, Volume Two explores the legacy of colonial violence in the children's work camps (called residential schools by some), the Sixties Scoop, and the urban disconnection of contemporary life. Ultimately, it is a story of resilience and reconnection, and charts the beginnings of an Indigenous future that is deeply rooted in an experience of Indigenous history – a perspective Miss Chief, a millennia-old legendary being, can offer like none other.

Blending history, fiction, and memoir in bold new ways, The Memoirs of Miss Chief Eagle Testickle are unlike anything published before. And in their power to reshape our shared understanding, they promise to change the way we see everything that lies ahead.
About Kent Monkman
Kent Monkman is an interdisciplinary Cree visual artist. A member of Fisher River Cree Nation in Treaty 5 Territory (Manitoba), he lives and works in Dish With One Spoon Territory (Toronto).
 
Monkman's gender-fluid alter ego Miss Chief Eagle Testickle often appears in his work as a time-travelling, shape-shifting, supernatural being who reverses the colonial gaze to challenge received notions of history and Indigenous peoples. His painting and installation works are held in the public collections of institutions such as the Metropolitan Museum of Art; Denver Art Museum; Hirshhorn Museum; National Gallery of Canada; Musée des beaux-arts de Montréal; Art Gallery of Ontario; and La maison rouge, Paris.
About Gisèle Gordon  
Gisèle Gordon is a settler media artist and writer based in Dish With One Spoon Territory. Her solo work includes the feature-length documentary The Tunguska Project (Best Feature Length Film at the Planet in Focus Film Festival, 2005), the video installations Crosscurrent (2013 Moscow Biennale), and projection/performance piece The Land that Dreams.
About Host Melanie Kjorlien
Melanie Kjorlien is the COO and VP, Engagement at the Glenbow. A passionate supporter of the arts and the benefits they bring to our communities, she has worked in the museum and gallery sector for most of her career where she's worked with many artists, curators, and creators to help realize their creative visions through exhibitions, programs, and publications. Currently, and with the rest of the incredible team at Glenbow, she is working to reimagine the museum for its reopening in 2026.
Kjorlien had the honour of first working with Kent Monkman 13 years ago when Glenbow presented his first major solo touring exhibition, The Triumph of Mischief, in 2010. They have worked together on several projects since then, including The Big Four, a Glenbow commissioned installation in 2013 and Shame and Prejudice: A Story of Resilience, his national touring exhibition that was hosted at Glenbow in 2017.
Curiouser?
• How Kent Monkman's alter ego is challenging colonial history. —Maclean's
• A Cree Artist Redraws History. —The New York Times