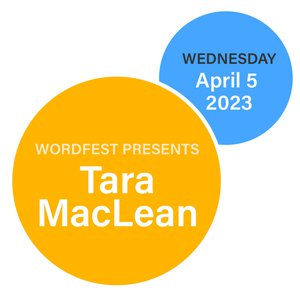 Wordfest presents Tara MacLean

Apr 05 @ 7 PM - 8:15 PM MT

Memorial Park Library, 2nd Floor

1221 2 St SW
Wordfest presents acclaimed singer/songwriter Tara MacLean and her bracingly honest and inspiring memoir Song of the Sparrow. The conversation and special musical performances will start at 7:00 PM MT and will be hosted by Wordfest's CEO and Creative Ringleader Shelley Youngblut. It will be followed by an audience Q&A and book signing.
We are grateful to HarperCollins Canada for making it possible for Wordfest connect you with this extraordinary talent.
About Song of the Sparrow
An astonishing memoir about how song saved a life.
Singer/songwriter Tara MacLean has had an extraordinary musical career. From being discovered singing on a B.C. ferry to touring with Dido, Tom Cochrane and Lilith Fair, her solo albums and those with the band Shaye have touched legions of fans. But she hasn't, until now, disclosed the details of how the power of song saved her from a childhood filled with danger.
From her earliest days in the backwoods of Prince Edward Island, MacLean was surrounded by nature, the songs of her musician father and the love of her actor mother. But love was not enough to feed their growing family, nor were the Wiccan, then evangelical Christian teachings her parents followed. Hunger and uncertainty were constant companions, as were the dangers that began to enter her world. Predators can come in many forms from even the most trusted circles, and MacLean soon learned that a young girl is never safe. It was only through MacLean's inner strength and the solace she found in singing that she created a refuge and a future for herself.
Song of the Sparrow is a daring, heartbreaking and provocative memoir of a life filled with music, told with the same raw, open, and elegant poetry that MacLean's fans have come to expect. From MacLean's childhood in PEI through her teenage years in BC to her meteoric rise in music, Song of the Sparrow reveals her remarkable strength and shows that a song and a wide-open heart are the best weapons for fighting monsters.
Don't miss Tara's new album, Sparrow, which is being released concurrently with this memoir.
About Tara MacLean
Canadian singer/songwriter Tara MacLean has been an internationally renowned and award-winning recording and touring artist for more than 25 years. She has written and recorded six solo albums and two with her band, Shaye. A playwright, author, poet, and mother, MacLean lives in her home province of PEI and on Salt Spring Island, B.C. Song of the Sparrow is her first book.
About Host Shelley Youngblut
Shelley Youngblut is the CEO & Creative Ringleader of Wordfest. She was the recipient of the 2020 Calgary Award for Community Achievement in the Arts and the 2018 Rozsa Award for Arts Leadership. She also won the 2008 Lifetime Achievement Award at the Western Magazine Awards. Youngblut was the founding editor of Calgary's award-winning Swerve magazine and has created magazines for ESPN, Seventeen, Cosmopolitan, Nickelodeon, Western Living, and The Globe and Mail. A former pop-culture correspondent for ABC World News Now and Canada AM, she is now a weekly panelist on CBC Radio's Daybreak Alberta. Follow her on Twitter @youngblut and Instagram @youngblutshelley.