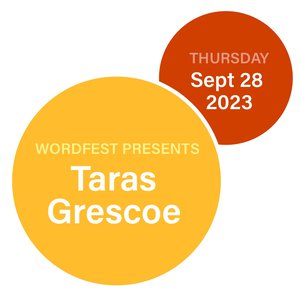 Wordfest Presents Taras Grescoe
Sep 28 @ 7 PM - 8:15 PM MT
Memorial Park Library, 2nd Floor
1221 2 St SW
Wordfest welcomes back prescient non-fiction writer Taras Grescoe (Bottomfeeder and Straphanger) to celebrate the launch of The Lost Supper: Searching for the Future of Food in the Flavors of the Past. This timely conversation, hosted by Calgary's beloved Julie Van Rosendaal, starts at 7PM MT and will be followed by an audience Q&A and book signing, fuelled by Shelf Life Books.
We are grateful to Greystone Books for making it possible for Wordfeset to connect you with Taras Grescoe.
About The Lost Supper

In the tradition of Michael Pollan, Anthony Bourdain, and Mark Bittman, an exciting and globe-trotting account of ancient cuisines – from Neolithic wines to ancient Roman fish sauce – and why reviving the foods of the past is the key to saving the future.
Many of us are worried (or at least we should be) about the impacts of globalization, pollution, and biotechnology on our diets. Whether it's monoculture crops, hormone-fed beef, or high-fructose corn syrup, industrially produced foods have troubling consequences for us and the planet. But as culinary diversity diminishes, many people are looking to a surprising place to safeguard the future: into the past.
The Lost Supper explores an idea that is quickly spreading among restaurateurs, food producers, scientists, and gastronomes around the world: that the key to healthy and sustainable eating lies not in looking forward, but in looking back to the foods that have sustained us through our half-million-year existence as a species.
Acclaimed author Taras Grescoe introduces readers to the surprising and forgotten flavors whose revival is captivating food-lovers around the world: ancient sourdough bread last baked by Egyptian pharaohs; raw-milk farmhouse cheese from critically endangered British dairy cattle; ham from Spanish pata negra pigs that have been foraging on acorns on a secluded island since before the United States was a nation; and Neolithic wines from long-lost grapes uniquely capable of resisting quickly-evolving pests and modern pathogens.
From Ancient Roman fish sauce to Aztec caviar to the long-thought-extinct silphium, The Lost Supper is a deep dive into the latest frontier of global gastronomy – the archaeology of taste. Through vivid writing, history, and first-hand culinary experience, Grescoe sets out a provocative case: in order to save these foods, he argues, we've got to eat them.
About Taras Grescoe
Taras Grescoe is an award-winning non-fiction writer and travel journalist. His book Bottomfeeder: How to Eat Ethically in a World of Vanishing Seafood, won the Hilary Weston Writers' Trust Prize for Nonfiction, The Mavis Gallant Prize for Non-Fiction, and the IACP Award for Literary Food Writing. Other books include Straphanger: Saving Our Cities and Ourselves from the Automobile, Shanghai Grand, and Possess the Air: Love, Heroism, and the Battle for the Soul of Mussolini's Rome. Grescoe has contributed to Canadian Geographic, The New York Times Magazine, National Geographic Traveler, Smithsonian Magazine, The Wall Street Journal, The New Yorker, and The Guardian. He lives in Montreal.

Website: tarasgrescoe.com
Instagram/Threads: @tastingthepast
Facebook:@tarasgrescoe
Newsletter: @lostsupper
Be Curiouser
About Host Julie Van Rosendaal
Julie Van Rosendaal is the Calgary-based author of 13 best-selling cookbooks – You Are Human and You Need Cake is her latest. Her first, One Smart Cookie, was published soon after she closed her cookie bakery of the same name at the turn of the millennium. She has been the food columnist on CBC's Calgary Eyeopener for almost two decades, writes about food for The Globe and Mail, and has been a freelance food writer and columnist for various publications across Canada. Van Rosendaal teaches, speaks, and cooks at culinary schools and events virtually and in real life, and has a very engaged audience on her social media channels.