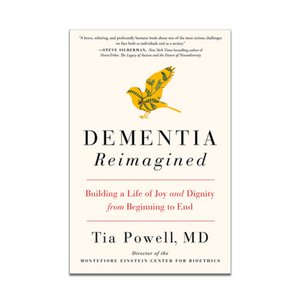 Moving the Conversation from Cure to Care
Join Dr. Tia Powell in conversation about the meaning of quality of life with host Christina Frangou. One of the world's leading dementia experts, Powell's goal is to move the conversation away from an exclusive focus on cure to a genuine appreciation of care and what we can do for those who have dementia, and how to keep life meaningful and joyful for those living with the disease.
"With candor and humor, Tia Powell examines all aspects of dementia: its history, treatment, and most importantly, how to care for people as they struggle to maintain dignity and autonomy. I recommend this book to anyone with a family or friend with dementia." — Laurie G. Jacobs, MD, President, American Geriatrics Society and Chair of Medicine at Hackensack Meridian School of Medicine at Seton Hall
"Dementia is the defining disease of our era. Powell invites us to imagine a brighter way forward. Dementia Reimagined succeeds on many levels—it is informative and insightful, historically illuminating, scientifically accurate, socially savvy and so well written. The result is utterly engaging." — Ira Byock, MD, author of The Four Things That Matter Most and Dying Well
About Dementia Reimagined
Despite being a physician and a bioethicist, Tia Powell wasn't prepared to address the challenges she faced when her grandmother, and then her mother, were diagnosed with dementia — not to mention the hard truth that her own odds aren't great. In the U.S., 10,000 baby boomers turn 65 every day; by the time a person reaches 85, their chances of developing dementia approach 50 percent. And the truth is, there is no cure, and none coming soon, despite the perpetual promises by pharmaceutical companies that they are just one more expensive study away from a dementia pill. Reimagining Dementia is a moving combination of medicine and memoir, peeling back the untold history of dementia, from the story of Solomon Fuller, a black doctor whose research at the turn of the twentieth century anticipated important aspects of what we know about dementia today, to what has been gained and lost with the recent bonanza of funding for Alzheimer's at the expense of other forms of the disease. In demystifying dementia, Dr. Powell helps us understand it with clearer eyes, from the point of view of both physician and caregiver. Ultimately, she wants us all to know that dementia is not only about loss–it's also about the preservation of dignity and hope.
About Tia Powell
Dr. Tia Powell is the Director of the Montefiore Einstein Center for Bioethics and of the Einstein Cardozo Master of Science in Bioethics program. She is a Professor of Epidemiology, Division of Bioethics, and Psychiatry. She has bioethics expertise in public policy, dementia, consultation, end of life care, decision-making capacity, bioethics education, and the ethics of public health disasters. She served four years as Executive Director of the New York State Task Force on Life and the Law, which functions as New York State's bioethics commission. She has worked with the Institute of Medicine on many projects related to public health and ethics, and most recently, she served on the 2017 report on community approaches to address health inequities. She is a board-certified psychiatrist and Fellow of the New York Academy of Medicine, the American Psychiatric Association, and The Hastings Center.