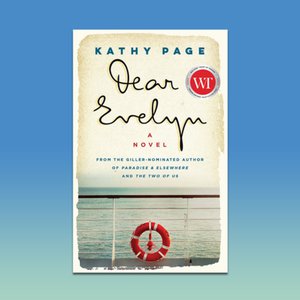 We've Read This Book Club: Dear Evelyn
Have you vowed to wean yourself off Netflix and get some serious reading done this spring – then have a great chat about what you've read with an equally engaged group of book lovers?
Come prepared to delve into Dear Evelyn, written by the Giller-nominated author of Paradise & Elsewhere, Kathy Page. The book has been called, "A novel in the shape of a life…[true] to most human experiences of love…Page has laid bare the lives of her characters, making no claim to their significance to anyone but each other, and in doing so has demonstrated that the ordinary is infinitely precious," by Times Literary Supplement and, "A love story, a coming-of-age story, and a brilliantly evocative sketch of Britain in the 20th century…[a] measured, intelligent novel" by The Guardian.
This event is hosted by blogger and book reviewer Anne Logan of ivereadthis.com, and is part of Wordfest's monthly book club series on the top floor of Memorial Park Library.
Dear Evelyn by Kathy Page
Harry Miles was born between the wars on a working-class London street. After winning a scholarship and the subsequent chance to escape his station, he discovers instead that poetry is what offers him real direction. This discovery leads him to meet Evelyn Hill on the steps of Battersea Library. The two fall in love as the world prepares once again for war, but their capacity to care for one another over the ensuing decades becomes increasingly tested.
Twisting and startling, harrowing and deeply tender, Dear Evelyn explores how two very different people can come together to shape and reshape each other over a lifetime. It is a compelling and unconventional love story that will leave its mark on any reader who has ever loved.
About your host, Anne Logan
Anne Logan worked in the Canadian publishing industry for 7 years, and loved every minute of it. Now she reviews books online at ivereadthis.com, and on-air for CBC Calgary.
Featuring