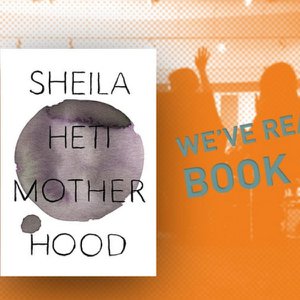 We've Read This Book Club
Have you vowed to wean yourself off Netflix and get some serious reading done this fall – then have a great chat about what you've read with an equally engaged group of book lovers?
Come prepared to delve into Sheila Heti's new novel Motherhood, a courageous, keenly felt, and starkly original exploration that will surely spark lively conversations about womanhood, parenthood, and about how―and for whom―to live
This event is hosted by blogger and book reviewer Anne Logan of ivereadthis.com, and is part of Wordfest's monthly book club series on the top floor of Memorial Park Library.
Motherhood: A Novel by Sheila Heti
From the author of How Should a Person Be? ("one of the most talked-about books of the year"―Time Magazine) and the New York Times Bestseller Women in Clothes comes a daring novel about whether to have children.

In Motherhood, Sheila Heti asks what is gained and what is lost when a woman becomes a mother, treating the most consequential decision of early adulthood with the candor, originality, and humor that have won Heti international acclaim and made How Should A Person Be? required reading for a generation.
In her late thirties, when her friends are asking when they will become mothers, the narrator of Heti's intimate and urgent novel considers whether she will do so at all. In a narrative spanning several years, casting among the influence of her peers, partner, and her duties to her forbearers, she struggles to make a wise and moral choice. After seeking guidance from philosophy, her body, mysticism, and chance, she discovers her answer much closer to home.
About your host, Anne Logan
Anne Logan worked in the Canadian publishing industry for 7 years, and loved every minute of it. Now she reviews books online at iverreadthis.com, and on-air for CBC Calgary.
Featuring