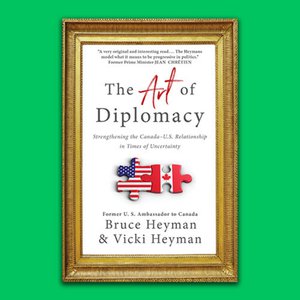 A call to action and a much-needed book about why diplomacy matters now more than ever before.
Don't miss this timely conversation featuring Bruce Heyman, the former U.S. ambassador to Canada, and his partner Vicki Heyman. This exclusive event includes an on-stage interview hosted by Maclean's Jason Markusoff followed by an audience Q&A and book signing.
"There are no greater defenders of the Canada-United States relationship than Vicki and Bruce Heyman. Their stories remind us how we truly are each other's best friends. The Art of Diplomacy comes at a critical moment in the relationship, and exposes the connective tissue between our two countries in clear and at times surprising ways." –Peter Mansbridge
About The Art of Diplomacy
All over the world, diplomacy is under threat. Diplomats used to handle sensitive international negotiations, but increasingly, incendiary Tweets and bombastic public statements are posing a threat to foreign relations.

In The Art of Diplomacy, Bruce and Vicki Heyman spell out why diplomacy and diplomats matter, especially in today's turbulent times. This dynamic power couple arrived in Canada intent on representing American interests, but they quickly learned that to do so meant representing the shared interests of all citizens, no matter what side of the 49th parallel they happened to live on.

Bruce and Vicki narrate their three years in Canada spent journeying across the country and meeting Canadians from all walks of life, including Supreme Court justices, prime ministers, fishermen, farmers, artists, and entrepreneurs. They tell the behind-the-scenes stories of how their team helped bring Obama to Canada and Trudeau to the U.S. They also reveal the importance of creating cultural and artistic exchange between Canada and the US, of promoting economic and trade interests, and overall, of making a lasting positive impact on one of the most important relationships in the free world today.
"This book is like a warm living room in a political world where winter seems to be coming. It reminds us that the fireplace keeps us warm and safe, not fences, walls or fists." –Rufus Wainwright, singer and songwriter, and Jörn Weisbrodt, arts administrator
About Bruce & Vicki Heyman
Ambassador Bruce Heyman served as the United States Ambassador to Canada under President Barack Obama from 2014 until 2017. He appears regularly on the CBC, Fox Business, Bloomberg, CTV, CNBC, and other media outlets as an expert on trade and bilateral issues. He lives in Chicago with his wife and co-author, Vicki Heyman. Connect on Twitter @BruceAHeyman.

Vicki Heyman was an American cultural envoy in Canada, leading cross-border conversations and programs related to the arts, social innovation, and youth engagement. She is on the board of the Council for Canadian American Relations, the international advisory board of C2 Montreal, and Chicago Media Project. Vicki lives in Chicago where she and Bruce are co-founders of Uncharted, llc. Connect on Twitter @vshey