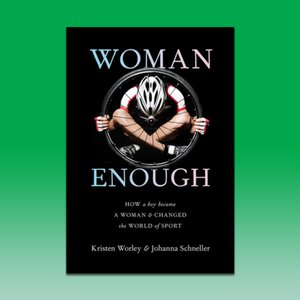 Wordfest Presents Kristen Worley
In great demand as an inspirational speaker, Kristen Worley is an Olympic-calibre cyclist who challenged the highest levels of international sport on science, gender and human rights … and won. In her new memoir Woman Enough, Worley tells the powerful and inspiring story of her journey to self-realization, one that will upend your assumptions about sexual identity and show how one person can create significant change in the world while staying true to oneself. This event will feature an on-stage interview, followed by an audience Q&A and book signing.
"Kristen Worley's story not only sheds light on transgender issues in sport, it also illustrates the struggle and complexity of her experience becoming her authentic self. I not only feel better educated after reading Woman Enough, I feel a greater respect and empathy towards all individuals going through a gender transition" - Silken Laumann, author of Unsinkable
About Woman Enough
Chris was adopted by an upper-middle-class Toronto couple in 1966. From early childhood, Chris felt ill-at-ease as a boy and like an outsider in his conservative family. An obsession with sports like running, waterskiing, and especially cycling helped him survive what he would eventually understand to be a profound disconnect between his anatomical sexual identity and his gender identity. In his twenties, with the support of his chosen family and the medical community, Chris became Kristen.
Chris was a world-class cyclist, and now Kristen wanted to compete for her country and herself in the 2008 Beijing Olympics. She became the first athlete in the world to submit to the International Olympic Committee's gender verification process, the Stockholm Consensus. An all-male jury determined she fit their biological criteria but the IOC ultimately objected to her use of testosterone supplements. They, and other sports bodies, regard them as performance enhancing, when in fact all transitioned female athletes need the hormone to compete and stay healthy. Thus, Kristen filed a complaint against the sports bodies standing in her way with the Ontario Human Rights Tribunal. And she won.
About Kristen Worley
Kristen Worley is a former world-class cyclist and now an international inclusivity and diversity advisor, educator and public speaker. She is the first athlete to legally challenge the gender policies of the International Olympic Committee and related international sports bodies, which she successfully argued were designed to discriminate against female athletes. She lives in Toronto.