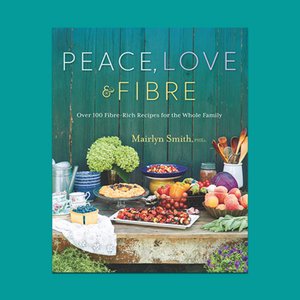 Wordfest Presents Mairlyn Smith (Peace, Love & Fibre)
The self-proclaimed "Queen of Fibre" is coming and she's going to help you get an A+ on your next Colonoscopy, phew! On May 28th media personality, bestselling author, and professional home economist Mairlyn Smith is presenting her new fibre infused cookbook, Peace, Love & Fibre. This event includes an on-stage interview with local celebrity Julie Van Rosendaal, followed by an audience Q&A and book signing.
About Peace, Love & Fibre
In her newest cookbook, Mairlyn breaks down exactly what fibre is, and why it is such an important part of a healthy lifestyle. You'll learn how fibre positively affects your blood sugar levels and gut health, and how it reduces the risk of certain types of cancer. Then, Mairlyn will teach you exactly how to create a more balanced, fibre-rich diet, without going overboard. Moving into the recipes, you'll find a mouth-watering assortment of choices for every meal and occasion, with dishes such as Pumpkin Spice Griddle Cakes, Cheddar Cheese Mini Dinner Biscuits, Lentil & Wheat Berry Salad with Strawberries & Mint, Slow-Cooker Pulled Pork, Chicken & Chickpea Curry, and even desserts like Chocolate Fudge Cake!
"Mairlyn Smith's hilarious approach to all foods nutritious and fibre-filled has made her a daytime television favourite. We live for her tasty recipes, her easy-to-digest prep advice, and, of course, her ability to never take herself too seriously." —Tracy Moore, host of Cityline
About Mairlyn Smith
Mairlyn Smith has made it her mission to bring healthy living and flavourful, fibre-rich eating to the masses. But, living healthfully isn't only about the food. It's about your whole approach to life, from how much you exercise to how you cope with stress and the types of people you surround yourself with. And it's because of Mairlyn's belief in the overall power of mind, body, and spirit that her personal motto is "peace, love, and fibre." She invites peace into her life through quiet moments in nature and a practice of gratitude; love comes from family, friends, and a fulfilling career. As for fibre? Well, Mairlyn and fibre go way back. In fact, Mairlyn believes that in order to be on top of your game, you absolutely must have a fibre-rich diet. Be sure to visit her website, Mairlynsmith.com for all things fibre!
About Julie Van Rosendaal
Julie Van Rosendaal is the author (or co-author) of 10 cookbooks and has been the food columnist on the Calgary Eyeopener on CBC Radio One for over a decade. She's the contributing food editor for The Globe and Mail, and teaches cooking classes, cooks on TV and at live events, and writes about food for other publications across Canada. She also writes and takes photos for her popular food blog, dinnerwithJulie.com, which documents real life in her home kitchen in Ramsay with her husband, Mike, and 13 year old son, Willem.