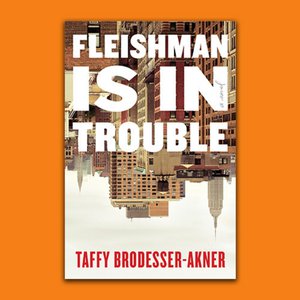 A smart, funny, and deliciously original writer
This is THE must-see author of spring 2019 according to Wordfest CEO & Creative Ringleader, Shelley Youngblut. "Taffy Brodesser-Akner is my hero — such a smart, funny, and deliciously original writer. If you're looking for an experience that embodies my perfect Wordfest event, this is it!"
From one of the best profile writers in the world comes a searing, utterly unvarnished debut novel. Fleishman is in Trouble is an insightful, unsettling, often hilarious exploration of a culture trying to navigate the fault lines of an institution that has proven to be worthy of our great wariness and our great hope.
This event features an on-stage reading and interview (hosted by Shelley Youngblut), followed by an audience Q&A. Indulge in the full Taffy Weekend Experience by adding her Saturday morning magazine-focused event to your ticket order.
"This glorious debut has the humor of Maria Semple, the heart of Meg Wolitzer, the lustiness of Philip Roth, and a voice that is pure. It's wild and wonderful and goes in so many directions, each with profundity — my favorite thing that novels can do. How does one's favorite journalist become one's new favorite novelist? With this book." —Emma Straub
About Fleishman is in Trouble
Toby Fleishman thought he knew what to expect when he and his wife of almost fifteen years separated: weekends and every other holiday with the kids, some residual bitterness, the occasional moment of tension in their co-parenting negotiations. He could not have predicted that one day, in the middle of his summer of sexual emancipation, Rachel would just drop their two children off at his place and simply not return. He had been working so hard to find equilibrium in his single life. The winds of his optimism, long dormant, had finally begun to pick up. Now this.

As Toby tries to figure out where Rachel went, all while juggling his patients at the hospital, his never-ending parental duties, and his new app-assisted sexual popularity, his tidy narrative of the spurned husband with the too-ambitious wife is his sole consolation. But if Toby ever wants to truly understand what happened to Rachel and what happened to his marriage, he is going to have to consider that he might not have seen things all that clearly in the first place.
"This portrait of modern love and marriage is blisteringly funny, searingly accurate, wincingly painful, and — ultimately — both heartbreaking and humane. Taffy Brodesser-Akner can write the pants off any novelist out there. She's a star, and this book is a work of utter perfection." —Elizabeth Gilbert
About Taffy Brodesser-Akner
Taffy Brodesser-Akner is a staff writer for The New York Times Magazine (click here for her most infamous profiles). She has also written for GQ, ESPN the Magazine, and many other publications. Fleishman Is in Trouble is her first novel.