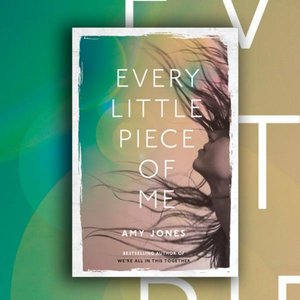 Wordfest We've Read This Book Club and Festival Preview Night
For a true insider's take on the upcoming 2019 Imaginairium (Oct. 14-23), please come early to this special edition of the We've Read This Book Club for a free festival preview night with Shelley Youngblut, Wordfest's CEO, as she dishes out all the festival delights ahead (6:30-7:30pm).
Then stay for our monthly book club event starting at 7:30pm, and come prepared to delve into Amy Jones's newest novel, Every Little Piece of Me. From the bestselling author of We're All in This Together comes a novel about family, friendship, fame, and the cost of living in the public eye, because when everyone suddenly knows your name, it's easy to forget who you really are.
This event is hosted by blogger and book reviewer Anne Logan of ivereadthis.com, and is part of Wordfest's monthly book club series on the top floor of Memorial Park Library.
Every Little Piece of Me by Amy Jones
The first time they met, Mags saved Ava's life. The second time they met, Ava saved Mags's.
Ava Hart is the most reluctant cast member of a reality TV show based on her big city family's (mostly staged) efforts to run a B&B in small-town Nova Scotia. Every family has its problems, but Ava has grown up seeing her family's every up and down broadcast on national television.
Mags Kovach is the charismatic lead singer of a struggling Halifax rock band hoping to be the "Next Big Thing." For years she's managed to contain her demons and navigate the uglier aspects of being a woman in the music industry, but after a devastating loss, she releases her anger on the only person she can: herself. 
As their private tragedies continue to set social media and tabloid headlines on fire, their every move is subjected to an endless stream of public commentary. Their unexpected friendship is the only thing that can save them.
About your host, Anne Logan
Anne Logan worked in the Canadian publishing industry for 7 years, and loved every minute of it. Now she reviews books online at ivereadthis.com, and on-air for CBC Calgary.