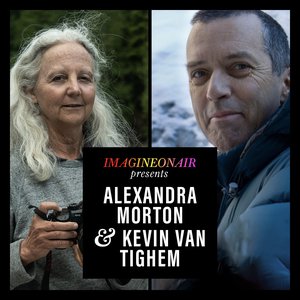 Imagine On Air presents Alexandra Morton & Kevin Van Tighem
Apr 29 @ 7 PM - 8 PM MT
Online

Wordfest's Imagine On Air is thrilled to present veteran conservationists Alexandra Morton and Kevin Van Tighem with their inspiring new books on environmental stewardship and activism. 
The hour-long conversation will start at 7:00 PM MT and will be hosted by Annalise Klingbeil. (The pre-show will begin at 6:50 PM MT.)
This live stream event is free. If you RSVP, we'll send you a reminder along with easy instructions to help you get set up, as well as our unique Digital Doggie Bag after the event with all the links, extras and references from the conversation.
We are grateful to Rocky Mountain Books and Penguin Random House Canada for making it possible for us to connect you with Alexandra Morton and Kevin Van Tighem. 
About  Not on My Watch: How a Renegade Whale Biologist Took On Governments and Industry
"Not on My Watch is an urgent, essential read for anyone who cares about the rapidly dwindling wild salmon population of British Columbia.  Meticulous, penetrating and passionate, Morton's thorough exploration of the history and effect of placing an industrial zone in prime wild salmon habitat is chilling and infuriating." –Eden Robinson, author of the Trickster Trilogy 
Alexandra Morton has been called "the Jane Goodall of Canada" because of her passionate 30-year fight to save British Columbia's wild salmon. Her account of that fight is both inspiring in its own right and a roadmap of resistance.

Alexandra Morton came north from California in the early 1980s, following her first love – the northern resident orca. In remote Echo Bay, in the Broughton Archipelago, she found the perfect place to settle into all she had ever dreamed of: a lifetime of observing and learning what these big-brained mammals are saying to each other. She was lucky enough to get there just in time to witness a place of true natural abundance, and learned how to thrive in the wilderness as a scientist and a single mother.
Then, in 1989, industrial aquaculture moved into the region, chasing the whales away. Her fisherman neighbours asked her if she would write letters on their behalf to government explaining the damage the farms were doing to the fisheries, and one thing led to another. Soon Alex had shifted her scientific focus to documenting the infectious diseases and parasites that pour from the ocean farm pens of Atlantic salmon into the migration routes of wild Pacific salmon, and then to proving their disastrous impact on wild salmon and the entire ecosystem of the coast. 
Morton stood against the farms, first representing her community, then alone, and at last as part of an uprising that built around her as ancient Indigenous governance resisted a province and a country that wouldn't obey their own court rulings. She has used her science, many acts of protest and the legal system in her unrelenting efforts to save wild salmon and ultimately the whales--a story that reveals her own doggedness and bravery but also shines a bright light on the ways other humans doggedly resist the truth. Here, she brilliantly calls those humans to account for the sake of us all.
About Alexandra Morton
Alexandra Morton is a field biologist who became an activist who has done groundbreaking research on the damaging impact of ocean-based salmon farming on the coast of British Columbia. She first studied communications in bottlenosed dolphins and then moved on to recording and analyzing the sounds of captive orcas at Marineland of the Pacific in California, where she witnessed the birth, and death, of the first orca conceived in captivity. In 1984, she moved to the remote BC coast, aiming to study the language and culture of wild orca clans, but soon found herself at the heart of a long fight to protect the wild salmon that are the province's keystone species. She has co-authored more than twenty scientific papers on the impact of salmon farming on migratory salmon, founded the Salmon Coast Research Station, has been featured on 60 Minutes, and has been key to many legal and protest actions against the industry, including the recent First Nations-led occupation of salmon farms on the Broughton.
About Wild Roses Are Worth It
A timely collection of provocative, personal, and thoughtful essays for an Alberta in transition.
This selection of works by naturalist, hunter, conservation activist, and outdoors journalist Kevin Van Tighem will both inspire and provoke, because it offers an unflinching challenge to cherished myths and conventional wisdom in a troubled province beset with profound questions about its future. Even at their most provocative, however, these writings remind us of what is best about the Alberta spirit, and offer the possibility of a more sustaining relationship with our place and with one another.
The rich imagery in these writings is drawn from the author's intimate relationship with the streams, forests, grasslands, and mountains of the Canadian West. There may be no sacred cows in Van Tighem's prose, but even the most unblinkingly critical of his writings resonate with a love of place and an abiding respect for the people whose lives he shares. He reminds us that Alberta's stories were always meant to be about much more than oil. At a time when social, economic, and environmental changes confront and confound what is still one of Canada's greatest provinces, we need better ways of remembering our past, knowing our present, and imagining our future. That's what this inspiring body of work offers — just in time for tomorrow.
About Kevin Van Tighem
Kevin Van Tighem, a former superintendent of Banff National Park, has written more than 200 articles, stories, and essays on conservation and wildlife which have garnered him many awards, including Western Magazine Awards, Outdoor Writers of Canada book and magazine awards, and the Journey Award for Fiction. He is the author of Bears Without Fear, The Homeward Wolf, Heart Waters: Sources of the Bow River, Our Place: Changing the Nature of Alberta, and Wild Roses Are Worth It: Alberta Reconsidered. He lives with his wife, Gail, in Canmore, Alberta.
About Annalise Klingbeil
Annalise Klingbeil is a former journalist and co-founder and principal of Champion Communications & PR. She loves skiing, hiking, camping and biking, and co-writes GoOutside.substack.com, a popular weekly newsletter about the great outdoors.
Buy the Books:
Not on My Watch: How a Renegade Whale Biologist Took On Governments and Industry 
Owl's Nest Books | Shelf Life Books
Wild Roses Are Worth It
Owl's Nest Books | Shelf Life Books
Borrow the Books:
Not on My Watch: How a Renegade Whale Biologist Took On Governments and Industry
Wild Roses are Worth It