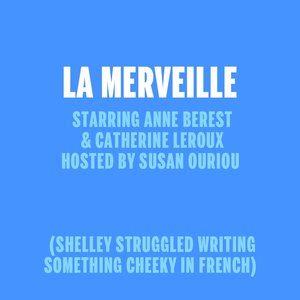 La Merveilles starring Anne Berest, Catherine Leroux & Susan Ouriou
Oct 14 @ 3 PM - 4:15 PM MT $20
Memorial Park Library, 2nd Floor
1221 2 St SW
There will be nothing lost in translation when three marvelous writers come together in French and English on the Wordfest stage at Memorial Park Library.
France's Anne Berest, who broke biographic new ground with her history of Françoise Sagan's Bonjour Tristesse, has set the international literary world on fire with The Postcard, a profoundly intimate look at one family and the Holocaust.
Quebec's Catherine Leroux, who has been honoured by the Governor General Literary Awards for her novels and her translation of Madeleine Thien's Do Not Say We Have Nothing, envisions an alternate reality for Detroit, in which family roots and fairy tales take on new meaning in The Future.
The troisième écrivain is Calgary's Susan Ouriou, who translated The Future from French to English, is a multi-GG honoree, and was named a Chevalier in France's prestigious Ordre des Arts et des Lettres. She joins the Imaginairium as one of the seven authors who came together to create seven tender scenes about their hopes for the future in Many Mothers, Seven Skies: Scenes for Tomorrow. 
This event is part of Wordfest's Imaginairium festival, Oct. 11-15, 2023. Connect with 50+ the world's most arresting writers, thinkers, activators and inspirers, gathered just for you in Calgary, Canada. For more info: wordfest.com