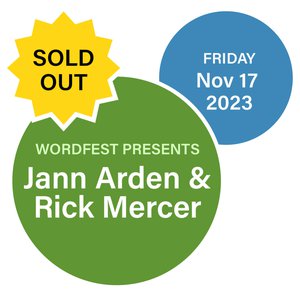 Wordfest Presents Jann Arden & Rick Mercer
SOLD OUT IN RECORD TIME! Click here to join the waitlist. (Thank you, Wordfesters, for your remarkable support. Please encourage your friends and family to sign up for our e-blast to make sure they're the first to hear about even more stellar authors coming to Calgary this year.)
Wordfest is thrilled to welcome comedic legends Jann Arden and Rick Mercer in conversation about their new books: Arden's debut novel, The Bittlemores, and Mercer's memoir, The Road Years. The 75-minute conversation, introduced by former Calgary mayor Naheed Nenshi, starts at 7 PM MT and will include audience questions (please submit them in advance here).
In addition to what promises to be an evening of unbridled hilarity, the ticket price includes presigned copies of both authors' books, perfect for you to add to your must-savour pile or to gift this holiday season!
We are grateful to Penguin Random House Canada for making it possible for Wordfest to connect you with Jann Arden and Rick Mercer.
About The Bittlemores

A heartfelt, comic, and deeply satisfying debut novel from the #1 bestselling author, singer-songwriter, member of Canada's Music Hall of Fame, and star of her own hit TV sitcom. A little bit All Creatures Great and Small, a little bit Fargo and all Jann Arden!

On mean Harp Bittlemore's blighted farm, hidden away in the Backhills, nothing has gone right for a very long time. Crops don't grow, the pigs and chickens stay skinny and the three aged dairy cows, Berle, Crilla and Dally, are so desperate they are plotting an escape. The one thing holding them back is the thought of abandoning young Willa, the single bright point in their life since her older sister, Margaret, ran away.
But Willa Bittlemore, just turning 14, is planning her own rebellion. Something doesn't add up in the story she's been told about her missing sister, and she's beginning to question if her horrible parents are even her parents at all. Just as things are really coming to a head, a bright young police officer starts investigating a cold case involving a baby stolen from a little rural hospital 28 years earlier, and Willa and the cows find out exactly how far the Bittlemores will go to protect a festering secret.
Written with Arden's trademark outrageous humour and full of her down-to-earth wisdom, The Bittlemores is a rural fairytale, a coming-of-age story and a prairie mystery all-in-one, saturated with her observations of the world she grew up in and her deep connection to the animals we exploit. This marvel of a first novel digs into how people come to be so cruel, but it also glories in the miracle of human kindness.

About Jann Arden
Jann Arden is a singer, songwriter, broadcaster, actor, author, and social media star. The celebrated multi-platinum, award-winning artist catapulted onto the music scene in 1993 with her debut album, Time for Mercy, featuring the hit single "I Would Die for You." A year later she had her international break-out hit, "Insensitive." She has written four books, the most recent being the Canadian bestseller Feeding My Mother: Comfort and Laughter in the Kitchen as My Mom Lives with Memory Loss. 
A multiple Juno Award-winner, Arden continues to record and tour; in 2020, she was inducted into the Canadian Music Hall of Fame. Arden is the star of her own hit TV sitcom, Jann, and the host of the weekly Jann Arden Podcast. Follow her on Facebook: Jann Arden and Instagram: @jannarden.
About The Road Years
Rick Mercer is back – again! – with the eagerly awaited sequel to his bestselling memoir, Talking to Canadians, winner of the 2022 Stephen Leacock Memorial Medal for Humour.

At the end of his memoir Talking to Canadians, Rick Mercer was poised to make the biggest leap yet in his extraordinary career. Having overcome a serious lack of promise as a schoolboy and risen through the showbiz ranks – as an aspiring actor, star of a surprisingly successful one-man show about the Meech Lake Accord, co-founder of This Hour Has 22 Minutes, creator and star of the dark-comedy sitcom Made in Canada – he was about to tackle his biggest opportunity yet.
The Road Years picks up the story at that exciting point, with the greenlighting of what would become Rick Mercer Report. Plans for the show, of course, included political satire and Mercer's patented rants. But he and his partner, Gerald Lunz, were also determined to do something that comedy tends to avoid as too challenging: they would emphasize the positive. Mercer would travel from coast to coast to coast in search of everything that's best about Canada, especially its people. He found a lot to celebrate, naturally, and was rewarded with a huge audience and a run of 15 seasons.
 
The Road Years tells the inside story of that stupendous success. A time when Mercer was heading to another town – or military base, sports centre, national park – to try dogsledding, chainsaw carving, and bear tagging; hang from a harness (a lot); ride the "Train of Death;" plus countless other joyous and/or reckless assignments.
 
Added to the mix were encounters with the country's great. Every living prime minister. Rock and roll royalty from Rush to Randy Bachman. Olympians and Paralympians. A skinny-dipping Bob Rae. And Jann Arden, of course, who gets a chapter to herself. Along the way he even found the time to visit several countries in Africa and co-found and champion the charity Spread the Net, which has gone on to protect the lives of millions.
 
Join the celebration, and revive a wealth of happy memories, with what is Rick Mercer's funniest, most fascinating book yet.
About Rick Mercer
Rick Mercer is Canada's sharpest and funniest political satirist. He first came to fame with Show Me the Button I'll Push It, or Charles Lynch Must Die, a one-man show that toured across Canada. He co-created and was a resident performer on CBC's This Hour Has 22 Minutes, and was the host of The Rick Mercer Report, the Corporation's highest-rated comedy show, for fifteen seasons.
Rick is co-chair of the Spread the Net campaign, dedicated to preventing the spread of Malaria in Africa, and has also campaigned for the Canadian AIDS Society's The Walk for Life project. His many honours include 21 Geminis and the Governor General's Performing Arts Award.  Mercer's first memoir, the #1 National Bestseller Talking to Canadians, won the 2022 Stephen Leacock Memorial Medal for Humour. From St. John's, he currently resides in Toronto. Follow him on Instagram: @itsrickmercer.