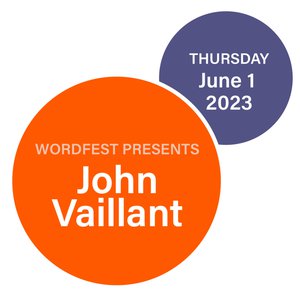 Wordfest Presents John Vaillant
Hosted by Paul Karchut
Jun 01 @ 7 PM - 8:15 PM MT
Memorial Park Library, 2nd Floor
1221 2 St SW
Wordfest is excited to welcome award-winning writer and journalist John Vaillant back to Calgary with his vivid chronicle of the events surrounding the 2016 Fort McMurray wildfire, Fire Weather: The Making of a Beast. The conversation, hosted by CBC Radio's Paul Karchut, starts at 7:00 PM MT and will be followed by an audience Q&A and book signing. 
We are grateful to Penguin Random House Canada for making it possible for Wordfest to connect you with John Valliant
About Fire Weather: The Making of a Beast
Riveting, spellbinding, astounding on every page… Captures the majesty and horror of one of [our] great disasters." —David Wallace-Wells, #1 bestselling author of The Uninhabitable Earth
A stunning account of a colossal wildfire and a panoramic exploration of the rapidly changing relationship between fire and humankind from the award-winning, best-selling author of The Tiger and The Golden Spruce

In May 2016, Fort McMurray, the hub of Canada's oil industry and America's biggest foreign supplier, was overrun by wildfire. The multi-billion-dollar disaster melted vehicles, turned entire neighborhoods into firebombs, and drove 88,000 people from their homes in a single afternoon. Through the lens of this apocalyptic conflagration — the wildfire equivalent of Hurricane Katrina — John Vaillant warns that this was not a unique event, but a shocking preview of what we must prepare for in a hotter, more flammable world.

For hundreds of millennia, fire has been a partner in our evolution, shaping culture, civilization, and, very likely, our brains. Fire has enabled us to cook our food, defend and heat our homes, and power the machines that drive our titanic economy. Yet this volatile energy source has always threatened to elude our control, and in our new age of intensifying climate change, we are seeing its destructive power unleashed in previously unimaginable ways.

With masterly prose and a cinematic eye, Vaillant takes us on a riveting journey through the intertwined histories of North America's oil industry and the birth of climate science, to the unprecedented devastation wrought by modern forest fires, and into lives forever changed by these disasters. John Vaillant's urgent work is a book for — and from — our new century of fire, which has only just begun.
About John Valliant
John Vaillant's acclaimed, award-winning nonfiction books, The Golden Spruce and The Tiger, were national best sellers. His debut novel, The Jaguar's Children, was a finalist for the Rogers Writers' Trust Fiction Prize and the International Dublin Literary Award. Vaillant has received the Governor General's Literary Award, British Columbia's National Award for Canadian Non-Fiction, the Windham-Campbell Literature Prize, and the Pearson Writers' Trust Prize for Nonfiction. He has written for, among others, The New Yorker, The Atlantic, National Geographic, and The Walrus. He lives in Vancouver.
About Host Paul Karchut
Paul Karchut is the host of Daybreak Alberta, the province's weekend morning show on CBC Radio One. Before taking over the reins on Daybreak Alberta,  Karchut was the director of the Calgary Eyeopener, and worked on many side projects including his role as CBC Radio's national car columnist with his weekly feature Karchut on Cars. When not at work, you'll find him in the mountains, skiing, hiking, and enjoying nature and time with his family.
Be Curiouser
• "A Timely, Well-Written Work of Climate Change Reportage" –Kirkus Review