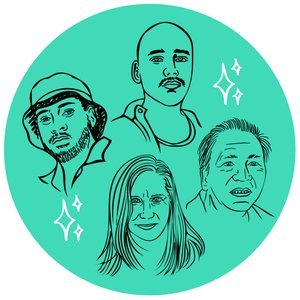 Memoiring: No Escape from RealityWith Cody Caetano, Marsha Lederman, Darrel J. McLeod & Rollie Pemberton
Three Canadian debut authors are joined by a Governor-General's Literary Award Non-Fiction winner (for his first book, Mamaskatch) to share life stories that run the gamut of human experience. In Peyakow, Darrel J. McLeod continues his unwavering honest story as he travels alone through adulthood. Kiss the Red Stairs is Globe and Mail Western Arts Correspondent Marsha Lederman's national best-selling reflection on Holocaust survival, intergenerational trauma, divorce, and discovery. The next wave of literary craft is well-represented by Rollie Pemberton in Bedroom Rapper and in Cody Caetano's fever-dream coming of age in Half-Bads in White Regalia.
This 75-conversation includes an audience Q&A and book signing.
This event is part of Wordfest's Imaginairium festival, Sept. 29 – Oct. 6, 2022. Connect with 60+ of the world's most generous writers, thinkers, activators and inspirers, gathered just for you in Calgary, Canada. For more info: wordfest.com