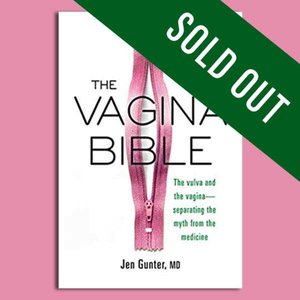 Dr. Jen Gunter (The Vagina Bible)
Sep 25 @ 7 PM - 8:30 PM MT
Patricia A. Whelan Performance Hall, Central Library
800 3 Street SE
Do You Know the Difference Between a Vagina and a Vulva?
Finally, an all-encompassing repository of accurate information based on science for vagina owners and lovers. Dr. Jen Gunter shares her expert understanding of the sexual health needs (and questions) of contemporary girls and women. Including a chapter on trans vaginas, and another on cannabis and the vagina, this is the modern, unfiltered, anti-patriarchal guide to female health.
This event includes an on-stage interview, hosted by Christina Frangou, followed by an audience Q&A and book signing. And don't miss the opportunity to show your love for Dr. Jen through our exclusive, custom-designed products, created by Wordfest's new artisanal product division, Wordfest Ink. Click here for more info.
About The Vagina Bible
From Canadian OB/GYN, women's health advocate and New York Times columnist Dr. Jen Gunter comes The Vagina Bible: The vulva and the vagina – separating the myth from the medicine. , This comprehensive, accessible antidote to the maelstrom of misinformation around female sexual health is the ultimate guide to everything a person needs to know about the vagina and vulva.
This book is for:
The 16-year-old trying to figure out tampons
The 26-year-old wondering how to avoid a UTI
The 36-year-old trans woman navigating her new anatomy
The 46-year-old worried about the changing appearance of her vulva
The 56-year-old looking into the HPV vaccine for her daughter (and maybe herself)
The 66-year-old experiencing painful sex
We are well into the 21st century and have access to more information than ever before, yet many people don't know that a vagina is self-cleaning, condoms should be used with a lubricant, eating sugar doesn't cause a yeast infection, and sex shouldn't be painful. As a physician with 25 years of clinical experience, Dr. Jen Gunter is all too familiar with the fears, fallacies and misinformation that abound about vaginal health.
On Twitter, she hilariously exposes unscientific wellness advice and debunks potentially harmful and stunningly unnecessary products from "vagina profiteers." Dr. Gunter knows the questions women (and men) have about female sexual health, and in The Vagina Bible, she answers them all.
"Dr. Jen Gunter is a fountain of critically important information and she's funny as hell. Buy this book if you have a vagina or if you spend any time at all in reasonably close proximity to one." ─Ayelet Waldman, New York Times bestselling author of A Really Good Day
About Dr. Jen Gunter
Dr. Jen Gunter is an obstetrician and gynecologist with nearly three decades of experience as a vulvar and vaginal diseases expert. Soon to be profiled as an ELLE Magazine Woman to Watch, she has been called Twitter's resident gynecologist, the Internet's OB/GYN, and a fierce advocate for women's health. She writes two regular columns for The New York Times: The Cycle (monthly) and You Asked (weekly), and has written for a broad range of outlets, from academic publications to The New Republic, Chatelaine, Self, The Cut, and many more.
T-shirts, Pillows, Notebooks – Oh My!
Check out Wordfest's new custom-designed artisanal product division. We're launching it with these special Dr. Jen Gunter items, with proceeds funding our Youth Program, which connects authors with kids + teens to spark better humans.