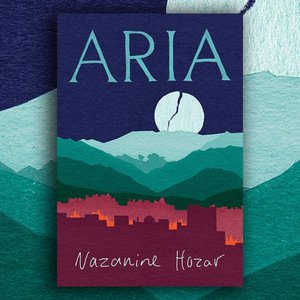 We've Read This Book Club: Aria
Have you vowed to wean yourself off Netflix and get some serious reading done this summer – then have a great chat about what you've read with an equally engaged group of book lovers?
Come prepared to delve into Nazanine Hozar's debut novel, Aria. The book has been called, "A feminist odyssey, about a girl in a time of intolerance as the revolution in Iran is breaking out . . . a poised and dramatic historical novel with contemporary relevance" by John Irving. Margaret Atwood also praised the book by calling it "A sweeping saga about the Iranian revolution as it explodes--told from the ground level and the centre of chaos. A Doctor Zhivago of Iran."
This event is hosted by blogger and book reviewer Anne Logan of ivereadthis.com, and is part of Wordfest's monthly book club series on the top floor of Memorial Park Library.
Aria by Nazanine Hozar
It is the early 1950s in a restless Iran, a country powerful with oil wealth but unsettled by class and religious divides and by a larger world hungry for its resources. One night, a humble driver in the Iranian army is walking home through a neighbourhood in Tehran when he hears a small, pitiful cry. Curious, he searches for the source, and to his horror comes upon a newborn baby girl abandoned by the side of the road and encircled by ravenous dogs. He snatches up the child, and forever alters his own destiny and that of the little girl, whom he names Aria.
About your host, Anne Logan
Anne Logan worked in the Canadian publishing industry for 7 years, and loved every minute of it. Now she reviews books online at ivereadthis.com, and on-air for CBC Calgary.
Please note that the elevator in the Memorial Park Library is undergoing major repairs at this time and will be out of service until August 31st. If you require assistance or if you have any questions please email boxoffice@wordfest.com.