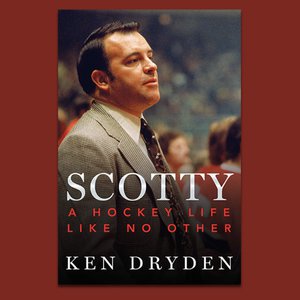 Wordfest Presents Ken Dryden
Nov 08 @ 7 PM - 8:30 PM
Patricia A. Whelan Performance Hall, Central Library
800 3 Street SE
Attention hockey fans! Ken Dryden, the former goaltender for the Montreal Canadiens, joins us in conversation about his new book on the greatest hockey coach of all time, Scotty Bowman. This event is hosted by CBC Radio's Doug Dirks, and includes an on-stage interview with Ken Dryden followed by a Q&A and book signing.
Dryden goes beyond the score lines and cliché-ridden post-game interview style of hockey writing to plumb the depths of the game at levels rarely examined." Winnipeg Free Press
About: Scotty: A Hockey Life Like No Other
Scotty Bowman is recognized as one of the greatest coaches in all of sports. He won more games and more Stanley Cups than anyone else during his career of over four decades—His first Cup win and his last were an astonishing thirty-nine years apart. With his precious standing room pass to the Montreal Forum, he saw "Rocket" Richard play at his peak every Saturday night. He saw Gordie Howe as a seventeen-year-old just starting out. He scouted Bobby Orr as a thirteen-year-old in Parry Sound, ON. He coached Guy Lafleur and Mario Lemieux, and he even coached against Wayne Gretzky. For the past decade, as an advisor for the Chicago Blackhawks, he's been there for all of the hockey's biggest moments. 

In Scotty, Dryden has given his coach a new test: Tell us about all the players and teams you've seen, but imagine yourself as their coach. Tell us about their weaknesses, not just their strengths. Tell us how you would coach them and coach against them. And then choose the top eight teams of all time, match them up against one another in a playoff series, and, separating the near-great from the great, tell us who would win, and why.

This book is about a life—a hockey life, a Canadian life, a life of achievement. It is Scotty Bowman in his natural element, behind the bench one more time.
About Ken Dryden
Ken Dryden was a goalie for the Montreal Canadiens in the 1970s, during which time the team won six Stanley Cups. He also played for Team Canada in the 1972 Summit Series. He has been inducted into the Hockey Hall of Fame and the Canadian Sports Hall of Fame. He is a former federal member of parliament and cabinet minister, and is the author of six books, including The Game, Home Game (with Roy MacGregor), and Game Change. He and his wife Lynda live in Toronto.