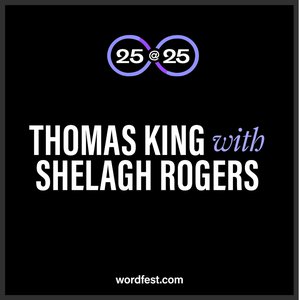 25@25: Thomas King with Shelagh Rogers
Sep 22 @ 7 PM - 8 PM MT $15
Online

Wordfest is honoured to be presenting this special 25@25 solo event, showcasing one of Wordfest's most popular authors, Thomas King. King will be discussing his just-released novel Indians on Vacation, as well the latest book in his popular DreadfulWater mystery series, The Obsidian.   
The 60-minute conversation, hosted by beloved CBC radio host Shelagh Rogers, will start at 7:00 PM MT. (The pre-show will begin at 6:50 PM MT.) We'll be revealing the names of the next two authors in the 25@25 Daisy Chain at the end of the show, making you the first to know!
As a pass holder, you have been automatically registered for this event, with access to the live stream on Wordfest.com, as well as the option of watching it on demand whenever works for you. Look for our unique Digital Doggie Bag after the event with all the links, goodies and references from the conversation.
We are grateful to HarperCollins Canada for making this event possible. Here are direct links to Calgary booksellers carrying Indians on Vacation, Obsidian, and 77 Fragments of a Familiar Ruin: 
About Thomas King
Thomas King is an award-winning novelist, short story writer, scriptwriter and photographer. His critically acclaimed, bestselling fiction includes Medicine River; Green Grass, Running Water; One Good Story, That One; Truth and Bright Water; A Short History of Indians in Canada; The Back of the Turtle (winner of the Governor General's Literary Award for Fiction); The Inconvenient Indian (winner of the RBC Taylor Prize); the DreadfulWater mystery series, including most recently Obsidian; and the poetry collection 77 Fragments of a Familiar Ruin. A Member of the Order of Canada and the recipient of a National Aboriginal Achievement Award, King lives in Guelph, Ontario.
About Shelagh Rogers
A veteran broadcast-journalist, Shelagh Rogers is the host and a producer of The Next Chapter, the award-winning CBC Radio program devoted to writing in Canada. In 2011 she received an Order of Canada for promoting Canadian culture and for advocacy in mental health, truth and reconciliation, and adult literacy. That same year, she was named an Honorary Witness for the Truth and Reconciliation Commission. She is the co-editor of Speaking My Truth: Reflections on Reconciliation and Residential School, Reconciliation and the Way Forward, and Speaking My Truth: The Journey to Reconciliation, launched in Sioux Lookout in 2018. She has received the Aboriginal Community Award by Native Counselling Services of Alberta. She holds honorary doctorates from eight universities, and is the 11th Chancellor of the University of Victoria. She has known Thomas King since 1997. He has used Shelagh's laugh as a sound-effect to break glass.
About Indians on Vacation
"From the first page, King's sardonic and very funny voice leads us to places we never expect to go …European and Indigenous history collide and there's no one better to examine the aftermath."
– Toronto Star
Meet Bird and Mimi in this brilliant new novel from one of Canada's foremost authors. Inspired by a handful of old postcards sent by Uncle Leroy nearly a hundred years earlier, Bird and Mimi attempt to trace Mimi's long-lost uncle and the family medicine bundle he took with him to Europe. 
 "I'm sweaty and sticky. My ears are still popping from the descent into Vaclav Havel. My sinuses ache. My stomach is upset. My mouth is a sewer. I roll over and bury my face in a pillow. Mimi snuggles down beside me with no regard for my distress.
 'My god,' she whispers, 'can it get any better?'"
By turns witty, sly and poignant, this is the unforgettable tale of one couple's holiday trip to Europe, where their wanderings through its famous capitals reveal a complicated history, both personal and political.
About Obsidian
"King's Thumps Dreadfulwater is a marvelous character … any of King's Dreadfulwater novels will take you right out of your reading chair and into the action." – The Globe and Mail
Thumps DreadfulWater's world is turned upside down when Nina Maslow, the producer of a true-crime reality-TV show, turns up dead after working on a cold case that Thumps has spent years trying to forget. What's more, someone seems set on taunting Thumps, leaving reminders of the Obsidian murder case around town. Is it possible that the elusive serial killer who murdered his girlfriend and her daughter all those years ago has resurfaced in Chinook? Or is this the work of a copycat looking to mess with Thumps by stirring up memories from his past? 
Dragged back into a case that has haunted him for years, Thumps DreadfulWater is determined to solve the mystery of the Obsidian murders. But as he works the case, he begins to realize just how dangerous the person he is dealing with is — and that he might be the next target. 
Thumps DreadfulWater, the sly, wry, reluctant investigator of Cold Skies and A Matter of Malice, returns in another irresistible mystery that only Thomas King could create. 
About 77 Fragments of a Familiar Ruin
Seventy-seven poems intended as a eulogy for what we have squandered, a reprimand for all we have allowed, a suggestion for what might still be salvaged, a poetic quarrel with our intolerant and greedy selves, a reflection on mortality and longing, as well as a long-running conversation with the mythological currents that flow throughout North America.
King's debut collection of poetry, 77 Fragments of a Familiar Ruin was shortlisted  for the 2020 Gerald Lampert Memorial Award for Poetry.
Buy His Books
Indians on Vacation
Owl's Nest Books | Shelf Life Books
Obsidian
Owl's Nest Books | Shelf Life Books
77 Fragments of a Familiar Ruin
Owl's Nest Books | Shelf Life Books
Curiouser?
Articles:
"Read an excerpt and see the cover of Thomas King's next novel, Indians on Vacation" – CBC Books
"Review – Indians on Vacation" – Quill and Quire
Review:
"The Characters Shine in Thomas Kings Latest Detective Novel, Obsidian: A DreadfulWater Mystery" – The Globe and Mail
TIFF Review: "Inconvenient Indian is made with love" – Now Toronto
TIFF 2020 film review: "Inconvenient Indian" – Escape Into Film
And there's more!
"Stories can be both wondrous and dangerous, according to writer Thomas King. Ideas revisits the enduring message of King's powerful 2003 Massey Lecture" – CBC Radio