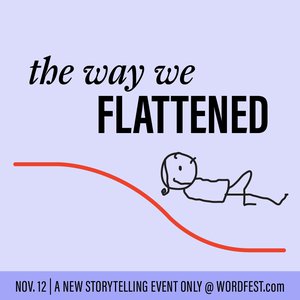 The Way We Flattened
Nov 12 @ 7 PM - 8 PM MT
Online

One of many COVID casualties from our live programming was The Way We Wear, our annual storytelling event (which was a fall festival smash, year after year). Tune in on Thursday, Nov. 12 at 7 p.m. MT for The Way We Flattened, in which five of Canada's best writers share tales of Pandemic highs and lows. Hosted by Wordfest CEO & Creative Ringleader Shelley Youngblut, who has a sad story about Internet shopping to confess as well.
Featuring: Sharon Butala, Ethan Lou, Omar Mouallem, Bill Richardson & Bob Wiseman
This hour-long event is free (and can be watched live or on demand on Wordfest.com). If you pre-register, we'll send you our artisanal Digital Doggie Bag after the event.
About Sharon Butala
Sharon Butala is an award-winning and bestselling author of both fiction and nonfiction. Her first story collection, Queen of the Headaches,  was a finalist for the Governor General's Literary Award, as was her memoir, The Perfection of Morning. Fever, a short story collection, won the 1992 Authors' Award for Paperback Fiction and was shortlisted for the Commonwealth Writers' Prize for best book (Canada and Caribbean region). Her 2015 novel Wild Rose was shortlisted for the W.O. Mitchell Book Prize. Her 2019 short story collection Season of Fury and Wonder won the W.O. Mitchell Book Prize and was also a finalist for the 2019 Rogers Writers Trust Award for Fiction. Butala is a recipient of the Marian Engel Award, the Saskatchewan Order of Merit, and the 2012 Cheryl and Henry Kloppenburg Award for Literary Excellence. In 2002 she became an Officer of the Order of Canada. Born and raised in Saskatchewan, she lived most of her life in that province and now resides in Calgary. Visit her at SharonButala.com.
About Season of Fury and Wonder (Freehand Books)
Writing at the top of her game, Sharon Butala returns to the short story in this astounding new collection. In Butala's world, the season of fury and wonder is the season of old age. The stories in this book are the stories of women who have had experiences; women who have seen much of life and have felt the joy of success and the sting of shortcomings; women who hold opinions and come to conclusions about the lives they've lived.
But Sharon Butala gives us more — not only is each story an observation on aging, each story in Season of Fury and Wonder pays tribute to a classic work of literature that has had an impact on Butala's writing. Among these writers are Raymond Carver, Willa Cather, Flannery O'Connor, John Cheever, James Joyce, Shirley Jackson, Anton Chekhov, Alan Sillitoe, Ernest Hemingway, and Edgar Allan Poe. The result of Butala's effort is a series of deeply felt tributes to these writers, to the creativity and their power to inspire.
About Ethan Lou
Ethan Lou was a staff business writer for Reuters and has also written for numerous publications around the world, including The Guardian, the South China Morning Post, the Washington Post, the Globe and Mail, Toronto Star, Maclean's, and the Walrus. He is the author of the forthcoming book, Once a Bitcoin Miner. Follow him on Twitter @Ethan_Lou.
About Field Notes from a Pandemic (Penguin Random House Canada)
Equal parts travelogue and pandemic guide, Canadian journalist Ethan Lou examines the societal effects of COVID-19 and takes us on a mesmerizing journey around a world that will never be the same.
Visiting Beijing in January to see his dying grandfather, Ethan Lou unknowingly walks into a state under siege. In his journey out of China and into other hot zones in Asia and Europe, he finds himself witnessing the very earliest stages of a virus that will forever change the world as we know it.
Lou argues that Coronavirus will have a far greater impact than SARS, for example, simply because China is now many more times integrated with the increasingly interconnected world. Over decades, globalization has crafted a world painfully sensitive and susceptible to shocks such as this pandemic. A crisis like it has thus been long overdue – and we have yet to see it unfold fully. In our integrated world, events that may previously be isolated now ripple farther and wider and in ways we do not expect and cannot foresee. We have not seen the worst, and if and when we outlast this pandemic, nothing will ever be the same–not just healthcare systems but also economies, politics and culture. Decisions now – or indecisions – will shape and define the world for decades.
These ideas are fleshed out through the virus's spawning and how it spread, the unprecedented measures to contain it and an examination of past pandemics and other crises and how they shaped the world – and an argument for why this one's different. Lou shows how drastically the virus has transformed the world and charts the greater and more radical shifts to come. His ideas and arguments are framed around his journey around the world, whose path the virus seemed to follow until he landed safely in quarantine in a small town in Germany where he was able to take stock and start telling his story.
About Omar Mouallem
Journalist, author, and filmmaker Omar Mouallem has worked for The New Yorker, Rolling Stone, CBC and WIRED. Over the course of his career, he has edited award-winning magazines, co-created a documentary about mental health in the oil patch, ghostwritten two bestselling memoirs, and hosted several podcasts CANADALAND. His forthcoming book, Praying to the West, is a travel memoir about mosques in the Americas, published next fall by Simon & Schuster Canada. He recently founded Pandemic University, a virtual school in support of writers affected by the COVID-19 pandemic. Follow him on Twitter @omar_aok.
About Pandemic University
Pandemic University is a pop-up writing school for, and by, locked-down and quarantined writers. It offers suites of affordable creative writing classes online. By taking PU classes, you'll be supporting artists who've suffered financially during the COVID-19 pandemic. Click here for more information and to register for upcoming classes.
About Bill Richardson
Bill Richardson lives in Vancouver and writes for children and adults. He was the host of Richardson's Roundup on CBC Radio One from 1997-2004.  His first novel, Bachelor Brothers' Bed and Breakfast won the Stephen Leacock Medal for Humour in 1994. His books for young readers include The Alphabet Thief and The Promise Basket, both published by Groundwood Books. I Saw Three Ships: West End Stories was published in Spring 2020 by Talonbooks and Hare B&B, a picture book with illustrations by Bill Pechet, is forthcoming from Running the Goat Books and Broadsides.   
About I Saw Three Ships (Talonbooks)
Longlisted for the 2020 Stephen Leacock Medal for Humour. Nominated for the 2020 B.C. and Yukon Book Prizes' Bill Duthie Bookseller Choice Award.
Eight linked stories, all set around Christmastime in Vancouver's West End neighbourhood, explore the seasonal tug-of-war between expectation and disappointment. These tales give shelter to characters from various walks of life whose experience of transcendence leaves them more alienated than consoled.
I Saw Three Ships captures a West End community vanishing under pressure from development and skyrocketing real-estate prices. As arch as they are elegiac, as funny as they are melancholy, these stories honour a cherished period in the history of the West End. Sometimes twisted, sometimes tender, I Saw Three Ships will speak to all who have ever been stuck spinning their wheels at the corner of Heathen and Holy.
About Bob Wiseman
Bob Wiseman likes having fun. He was on CNN lying about wanting to change his name to Prince; he played accordion on "If I Had a Million Dollars" by the Barenaked Ladies; he produced Kid in the Hall Bruce McCulloch's "Shame-Based Man"; he was the composer for The Drawer Boy, winner of the 2018 Best Feature Film at the Canadian Film Awards; and Odetta took his hands in hers and kissed them after hearing him play prepared piano at the Bitter End on Earth Day 2000. He was also a founding member of Blue Rodeo but quit in the early '90s when he no longer found it fun.
About Music Lessons (ECW Press)
Bob Wiseman believes most things in life are universal or, as Lauryn Hill says, everything is everything. Bearing in mind that advice, Wiseman writes about finding the link between music and daily life, like what is common between Mary Margaret O'Hara, hiding around the corner with the lights turned off in order to record herself and his 5-year-old insisting he stop hurrying to her dance lesson and marvel at the fluff ball she is blowing toward the ceiling. Each entry is unique and compellingly written, but the themes throughout — on improvisational music, life lessons, and conflict — are ubiquitous.