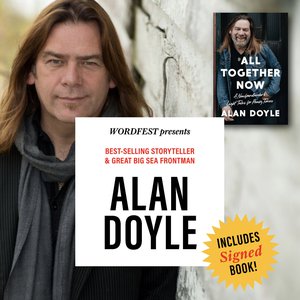 Wordfest presents Alan Doyle
Dec 10 @ 7 PM - 8 PM MT
Online

It's going to be SUCH a party! Join us to celebrate the launch of Alan Doyle's All Together Now, our final Imagine On Air event of 2020. The hour-long conversation starts at 7 PM MT and will be hosted by social-media maverick (and fellow East Coaster) Mike Morrison.
This livestream book and ticket event is $36.00 and includes a signed copy of All Together Now (managed by our bookselling partner Indigo) and shipping. To receive your signed book before the event, you must order by end of day on Tuesday, Nov. 24. 
Your ticket package also includes easy instructions to help you get set up to watch virtually, as well as our unique Digital Doggie Bag after the event with all the links, goodies and references from the conversation. Thank you Penguin Random House Canada for making this experience with Alan Doyle possible.
Add the Meal
Our friends over at Blowers & Grafton: Halifax Street Food + Bar have created a special meal in Alan Doyle's honour for $45, available for pre-order and pickup, to enjoy for December 10.
The Alan Doyle Premium Atlantic Combo - $45
Three pieces of Atlantic haddock, battered with our house Alexander Keiths beer batter, and fried to perfection. Served with our house cut fresh fries, grilled lemon, homemade coleslaw, and tartar sauce.
Three Mini Lobster Rolls made with our fresh butter seared top-cut slider buns. Real chunks of Atlantic Lobster mixed with some of our house mayo, lemon, and fresh dill. The lobster sits on top of our slaw for a nice crunch, and each mini roll is topped with our house brown butter and a sprig of fresh dill. Served with our house made potato chips, and avocado sriracha crema for dipping.
Add an additional piece of fried haddock or mini lobster roll for $6! You can also add a 4 pack of Newfoundland's own Quidi Vidi Iceberg Lager for $24, or 2 bottles for $12!
Instructions:
Please give Blowers & Grafton a call at either their Mission store (587) 391-4848 or their Bridgeland store (403) 276–1770 and let them know that you would like to pre-order for the Alan Doyle Premium Atlantic Combo for December 10th, and any additional items you might want to add to the order!
About All Together Now: A Newfoundlander's Light Tales for Heavy Times
One of Newfoundland's funniest and most beloved storytellers offers his cure for the Covid blues. 
Is there a more sociable province than Newfoundland and Labrador? Or anywhere in Canada with a greater reputation for coming to the rescue of those in need?
In this time of Covid, singer, songwriter and bestselling author Alan Doyle is feeling everyone's pain. Off the road and spending more days at home than he has since he was a child hawking cod tongues on the wharfs of Petty Harbour, he misses the crowds and companionship of performing across the country and beyond. But most of all he misses the cheery clamour of pubs in his hometown, where one yarn follows another so quickly "you have to be as ready as an Olympian at the start line to get your tale in before someone is well into theirs already." We're all experiencing our own version of that deprivation, and Alan, one of Newfoundland's finest storytellers, wants to offer a little balm.
All Together Now is a gathering in book form — a virtual Newfoundland pub. There are adventures in foreign lands, including an apparently filthy singalong in Polish (well, he would have sung along if he'd understood the language), a real-life ghost story involving an elderly neighbour, a red convertible and a clown horn, a potted history of his social drinking, and heartwarming reminiscences from another past world, childhood — all designed to put a smile on the faces of the isolated-addled. 
Alan Doyle has never been in better form — nor more welcome. As he says about this troubling time: "We get through it. We do what has to be done. Then, we celebrate. With the best of them."
About Alan Doyle
Alan Doyle is a Canadian musician and actor, best known as a lead singer in the Canadian folk-rock band Great Big Sea. In 2012, Doyle released his first solo album, Boy on Bridge, which made the top twenty on the Canadian Albums chart. His first book, Where I Belong, and his second book, A Newfoundlander in Canada, were both national bestsellers. Doyle lives in St. John's, Newfoundland. Visit him at alandoyle.ca.
About Mike Morrison
Mike Morrison is the popular blogger behind Mike's Bloggity Blog and, for the past 15 years, has been interviewing celebrities everywhere from Coronation Street to the Juno stage, and everywhere in between. He's also the author of the popular bike guide Calgary By Bike, which spent months atop the Calgary Herald best-seller list. 
Curiouser?
Articles:
At Home in St. John's with Musician Alan Doyle – En Route
The road for a rest: Alan Doyle thrives on 'routine' of lengthy tours – Calgary Herald