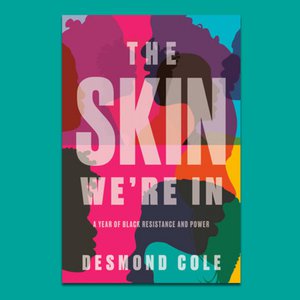 Wordfest Presents Desmond Cole (The Skin We're In)
Feb 20 @ 7 PM - 8:15 PM MT
Memorial Park Library, 2nd Floor
1221 2 St SW
Don't miss this provocative and perspective-shifting conversation with one of Canada's most celebrated and uncompromising writers, Desmond Cole. His first book, The Skin We're In is a vital text for anti-racist and social justice movements in Canada, as well as a potent antidote to the all-too-present complacency of many white Canadians. This event will feature an on-stage interview, followed by an audience Q&A and book signing.
About The Skin We're In
In May 2015, the cover story of Toronto Life magazine shook Canada's largest city to its core. Desmond Cole's "The Skin I'm In" exposed the racist practices of the Toronto police force, detailing the dozens of times Cole had been stopped and interrogated under the controversial practice of carding. The story quickly came to national prominence, went on to win a number of National Magazine Awards and catapulted its author into the public sphere. Cole used his newfound profile to draw insistent, unyielding attention to the injustices faced by Black Canadians on a daily basis: the devastating effects of racist policing; the hopelessness produced by an education system that expects little of its black students and withholds from them the resources they need to succeed more fully; the heartbreak of those vulnerable before the child welfare system and those separated from their families by discriminatory immigration laws. 
"The Skin We're In is about the interlocking forces besieging Black life in Canada; and it is also about organizing resistance and imagining futures in bravely intimate terms. Desmond Cole is an urgent and essential voice from a generation that will be heard." —David Chariandy
Both Cole's activism and journalism find vibrant expression in his first book, The Skin We're In. Puncturing once and for all the bubble of Canadian smugness and naïve assumptions of a post-racial nation, Cole chronicles the year 2017 in the struggle against racism in this country. It was a year that saw calls for tighter borders when Black refugees braved frigid temperatures to cross into Manitoba from the States, Indigenous land and water protectors resisting the celebration of Canada's 150th birthday, police across the country rallying around an officer accused of murder, and more.

In a month-by-month chronicle, Cole locates the deep cultural, historical, and political roots of each event so that what emerges is a personal, painful, and comprehensive picture of entrenched, systemic inequality.
About Desmond Cole
Desmond Cole is an award-winning journalist, radio host, and activist in Toronto. His writing has appeared in the Toronto Star, Toronto Life, The Walrus, NOW Magazine, Ethnic Aisle, Torontoist, BuzzFeed, and the Ottawa Citizen. He hosts a weekly radio program every Sunday on Newstalk 1010.
About Host Melanee Murray-Hunt
Melanee Murray-Hunt is an actress and director, known for Cor Values (2018), Race Anonymous (2017) and The Healing (2018). Her acting credits include feature film KPAX starring Kevin Spacey, the series 24, Nickelodeon's 100 Deeds For Eddie McDowd, Everybody Loves Raymond, Young Drunk Punk and Heartland. She is a graduate of the Baltimore School For the Arts and Bennington College. She lives in Calgary.
Curiouser?
Reviews:
"The Skin We're In: A Year of Black Resistance and Power" — Quill & Quire
Articles:
Documentary:
"The Skin We're In" — CBC
Books:
Books will be available for purchase at the event by local bookseller, Owl's Nest Books.
If you want to purchase the book in advance: 
Owl's Nest Books | The Next Page | Indigo.ca