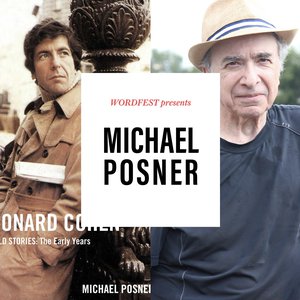 Wordfest Presents Michael Posner
Nov 19 @ 7 PM - 8 PM MT
Online

Fans of Leonard Cohen will not want to miss this Imagine On Air conversation with Michael Posner, author of Leonard Cohen: Untold Stories – The Early Years. This much-anticipated biography captures the extraordinary early years of one of the world's greatest music and literary icons, in the words of those who knew him best.
The hour-long interview will start at 7:00 p.m. MT  and will be hosted by Shelley Youngblut, Wordfest's CEO and Creative Ringleader. (The pre-show starts at 6:50 p.m. MT.) The live stream, broadcast on Wordfest.com is free, but if you RSVP, we'll send you a reminder along with easy instructions to help you get set up, as well as our unique Digital Doggie Bag after the event with links, goodies and references from the conversation.
We are grateful to Simon & Schuster Canada for making it possible for us to connect you with Michael Posner.
Buy the Book
Owl's Nest Books / Shelf Life Books
About Leonard Cohen: Untold Stories – The Early Years
Poet, novelist, singer-songwriter, artist, prophet, icon — there has never been a figure like Leonard Cohen. He was a true giant in contemporary western culture, entertaining and inspiring people everywhere with his work. From his ground breaking and bestselling novels, The Favourite Game and Beautiful Losers, to timeless songs such as "Suzanne," "Dance Me to the End of Love," and "Hallelujah," Cohen is a cherished artist. His death in 2016 was felt around the world by the many fans and followers who would miss his warmth, humour, intellect, and piercing insights.

Leonard Cohen, Untold Stories chronicles the full breadth of his extraordinary life. The first of three volumes — The Early Years — follows him from his boyhood in Montreal to university, and his burgeoning literary career to the world of music, culminating with his first international tour in 1970.

Through the voices of those who knew him best — family and friends, colleagues and contemporaries, rivals, business partners, and his many lovers — the book probes deeply into both Cohen's public and private life. It also paints a portrait of an era, the social, cultural, and political revolutions that shook the 1960s. In this revealing and entertaining first volume, bestselling author and biographer Michael Posner draws on hundreds of interviews to reach beyond the Cohen of myth and reveal the unique, complex, and compelling figure of the real man.
About Michael Posner
Michael Posner is an award-winning writer, playwright, journalist, and the author of seven books. These include the Mordecai Richler biography, The Last Honest Man, and the Anne Murray biography, All of Me, both of which were national bestsellers. He was Washington Bureau Chief for Maclean's magazine, and later served as its national, foreign, and assistant managing editor. He was also managing editor of the Financial Times of Canada for three years. He later spent 16 years as a senior writer with The Globe and Mail.
Curiouser?
Articles:
Not Everybody Knows: Fresh Leonard Cohen Stories Illuminate a Complex Troubadour - The Times of Israel
Westmount was kind of a beacon for him: Leonard Cohen's early years told through hundreds of voices in new book – The National Post