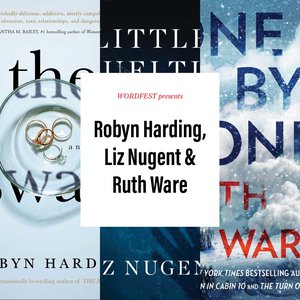 Wordfest Presents Robyn Harding, Liz Nugent & Ruth Ware
Nov 08 @ 12 PM - 1 PM MT
Online

Wordfest's Imagine On Air is thrilled to present three bestselling authors of contemporary crime fiction and their newest releases: Robyn Harding (The Swap), Liz Nugent (Little Cruelties), and Ruth Ware (One by One). 
The 60-minute interview will will start at 12:00 PM MT (the pre-show starts at 11:50 PM MT) and will be hosted by Shelley Youngblut, Wordfest's CEO & Creative Ringleader. Your $8 ticket includes the live stream event – with easy instructions to help get you set up to watch – as well as our unique Digital Doggie Bag after the event, with all the links, goodies and references from the conversation. 
A signed copy of each book is available as an optional "add-on" during checkout for $20 each, which includes GST. You may pick up your purchases at our bookselling partner, Calgary's Owl's Nest Books, have them shipped for free within Calgary, or pay for shipping to anywhere else in Canada.  
Thank you to Simon and Schuster Canada for making this exceptional experience possible.
About The Swap
"No list of thrillers is complete without Robyn Harding," - Real Simple. 
The USA TODAY bestselling author of The Party delivers a riveting tale about the toxic relationship between two couples after a night of sexual shenanigans, and the manipulative teenager with an explosive secret at the center of it all.

Low Morrison is not your average teen. You could blame her hippie parents or her looming height or her dreary, isolated hometown on an island in the Pacific Northwest. But whatever the reason, Low just doesn't fit in—and neither does Freya, an ethereal beauty and once-famous social media influencer who now owns the local pottery studio.

After signing up for a class, Low quickly falls under Freya's spell. And Freya, buoyed by Low's adoration, is compelled to share her darkest secrets and deepest desires. Finally, both feel a sense of belonging...that is, until Jamie walks through the studio door. Desperate for a baby, she and her husband have moved to the island hoping that the healthy environment will result in a pregnancy. Freya and Jamie become fast friends, as do their husbands, leaving Low alone once again.

Then one night, after a boozy dinner party, Freya suggests swapping partners. It should have been a harmless fling between consenting adults, one night of debauchery that they would put behind them, but instead, it upends their lives. And provides Low the perfect opportunity to unleash her growing resentment.
About Robyn Harding
Robyn Harding is the author of several books, including the international bestseller, The Party, and wrote and executive produced an independent film. She lives in Vancouver, BC, with her husband and children.
Visit her at RobynHarding.com or follow her on Twitter and Instagram @RHardingWriter or Facebook @AuthorRobynHarding.
Curiouser?
Review:
About Little Cruelties
Hailed by #1 New York Times bestselling author A.J. Finn as "a dark jewel of a novel," Liz Nugent's new work of fiction follows three working class Irish brothers, and delves into the many ways families can wreak emotional havoc across generations.

All three of the Drumm brothers were at the funeral.
Only one of us was in the coffin.

William, Brian, and Luke: three boys bound by blood but split by fate, trained from birth by their wily mother to compete for her attention. They play games, as brothers do...yet even after the Drumm's escape into the world beyond their windows, those games—those little cruelties—grow more sinister, more merciless, more dangerous. And with their lives entwined like the strands of a noose, only two of the brothers will survive.

Crisply written and quickly paced, perfect for readers of both sophisticated literary fiction and breathtaking suspense, Little Cruelties gazes unflinchingly into the darkness: the darkness collecting in the corners of childhood homes, hiding beneath marriage beds, clasped in the palms of two brothers shaking hands. And it confirms Liz Nugent, whose novels have been celebrated as "captivating" (People) and "highly entertaining" (The Washington Post), as one of the most exciting, perceptive voices in contemporary fiction.
About Liz Nugent
Liz Nugent has worked in Irish film, theater, and television for most of her adult life. She is an award-winning writer of radio and television drama and has written critically acclaimed short stories both for children and adults, as well as the bestselling novels Unraveling Oliver and Lying in Wait. She lives in Dublin.
Visit her at LizNugent.ie or follow her on Twitter at @Lizzienugent.
Curiouser?
Article:
About One by One
From Ruth Ware, the #1 New York Times bestselling author of In a Dark, Dark Wood, The Woman in Cabin 10, The Lying Game, The Death of Mrs. Westaway, and The Turn of the Key, comes her highly anticipated sixth novel.

Getting snowed in at a luxurious, rustic ski chalet high in the French Alps doesn't sound like the worst problem in the world. Especially when there's a breathtaking vista, a full-service chef and housekeeper, a cozy fire to keep you warm, and others to keep you company. Unless that company happens to be eight coworkers…each with something to gain, something to lose, and something to hide.

When the cofounder of Snoop, a trendy London-based tech start-up, organizes a weeklong trip for the team in the French Alps, it starts out as a corporate retreat like any other: PowerPoint presentations and strategy sessions broken up by mandatory bonding on the slopes. But as soon as one shareholder upends the agenda by pushing a lucrative but contentious buyout offer, tensions simmer and loyalties are tested. The storm brewing inside the chalet is no match for the one outside, however, and a devastating avalanche leaves the group cut off from all access to the outside world. Even worse, one Snooper hadn't made it back from the slopes when the avalanche hit.

As each hour passes without any sign of rescue, panic mounts, the chalet grows colder, and the group dwindles further…one by one.
About Ruth Ware
Ruth Ware worked as a waitress, a bookseller, a teacher of English as a foreign language, and a press officer before settling down as a full-time writer. She now lives with her family in Sussex, on the south coast of England. She is the #1 New York Times and Globe and Mail (Toronto) bestselling author of In a Dark, Dark Wood; The Woman in Cabin 10; The Lying Game; The Death of Mrs. Westaway; and The Turn of the Key.
Visit her at RuthWare.com or follow her on Twitter @RuthWareWriter.
Curiouser?
Article:
Review: