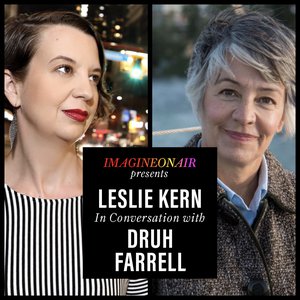 Imagine On Air presents Leslie Kern
May 20 @ 7 PM - 8 PM MT
Online

Wordfest's Imagine On Air presents Dr. Leslie Kern and her book Feminist City: A Field Guide. The hour-long conversation will start at 7:00 PM MT and will be hosted by City of Calgary Councillor Druh Farrell. (The pre-show will begin at 6:50 PM.) The livestream broadcast on Wordfest.com is free. If you RSVP, we'll send you a reminder on the afternoon of the show, as well as our unique Digital Doggie Bag the next day with bonus extras sparked by the conversation.
We are grateful to Between the Lines Books for making it possible for us to connect you with Leslie Kern. Feminist City is part of our monthly series, Building Community One Book at a Time, which this May features Druh Farrell's favourite 20 reads for engaged citizens. You can check out the full list here.
About Feminist City: A Field Guide  
"Feminist City is the next-generation urbanism book I've been waiting for! Leslie lays out a comprehensive guide to feminist world-building that our cities so desperately need. A must-read for all city officials and budding urbanists alike as we move into the female future of our urban environments." –Katrina Johnston-Zimmerman, MUS, urban anthropologist and adjunct professor, Lindy Institute for Urban Innovation, Drexel University; co-founder of The Women Led Cities Initiative
Leslie Kern wants your city to be feminist. An intrepid feminist geographer, Kern combines memoir, theory, pop culture, and geography in this collection of essays that invites the reader to think differently about city spaces and city life.
From the geography of rape culture to the politics of snow removal, the city is an ongoing site of gendered struggle. Yet the city is perhaps also our best hope for shaping new social relations based around care and justice.
Taking on fear, motherhood, friendship, activism, and the joys and perils of being alone, Kern maps the city from new vantage points, laying out a feminist intersectional approach to urban histories and pathways towards different urban futures.
About Dr. Leslie Kern
Leslie Kern is an associate professor of geography and environment and director of women's and gender studies at Mount Allison University. She is the author of Feminist City: A Field Guide, and Sex and the Revitalized City: Gender, Condominium Development, and Urban Citizenship. Follow her on twitter at @LellyK.
About Druh Farrell
A born and raised Calgarian, Druh Farrell brings a depth of experience to Calgary City Council. As a champion of livable neighbourhoods, accessible public transit, and sustainable, fiscally responsible development, she combines long-term vision with the tenacity and courage to get things done. Some of her many accomplishments during her five terms representing Ward 7 include Chairing the New Central Library Committee responsible for the iconic Calgary Central Library; working with City Administration to realize The City of Calgary's award-winning Climate Strategy; and advocating for arts, culture, and infrastructure projects such as the Peace Bridge and the East Village revitalization plan.
Buy the Book:
Owl's Nest Books | Shelf Life Books
Borrow the Book:
Curiouser?
Can a City be Feminist? –Metropolis
Cities Aren't Designed for Women. Sarah Everard's murder shows us the consequences -Vox