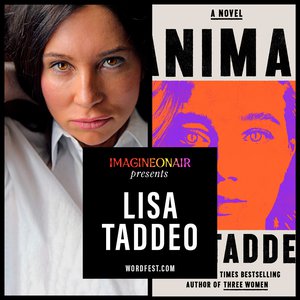 Imagine On Air presents Lisa Taddeo
Jun 15 @ 7 PM - 8 PM MT FREE
Online

Imagine On Air is thrilled to present Lisa Taddeo and her new book, Animal: A Novel.  This special one-hour conversation on Wordfest.com will be hosted by Wordfest's Creative Ringleader Shelley Youngblut. It's free and, if you RSVP, we'll send you a reminder on the afternoon of the show, as well as our unique Digital Doggie Bag the next day with bonus extras sparked by the conversation.
You know the buzz around her controversial 2019 non-fiction best-seller Three Women. Now everyone is talking about Animal. We can't wait to bring you deeper into the big generous brain of Lisa Taddeo.
We are grateful to Simon & Schuster Canada for making it possible for us to connect you with one of the world's most provocative thinkers.
About Animal: A Novel
 "A ferociously beautiful book that will be getting major attention and will surely stir controversy." -Library Journal. 


"Animal is sprawling id, a carnal and frank account of the uneasy marriage of memory and violence." -Raven Leilani
Lisa Taddeo illustrates one woman's exhilarating transformation from prey into predator in Animal, the scorching debut novel from the author of the #1 New York Times bestseller and international phenomenon Three Women, named to more than thirty best-of-the-year lists and hailed as "a dazzling achievement" (Los Angeles Times) and "a heartbreaking, gripping, astonishing masterpiece" (Esquire).

I am depraved. I hope you like me.
Joan has spent a lifetime enduring the cruel acts of men. But when one of them commits a shocking act of violence in front of her, she flees New York City in search of Alice, the only person alive who can help her make sense of her past. In the sweltering hills above Los Angeles, Joan unravels the horrific event she witnessed as a child — that has haunted her every waking moment — while forging the power to finally strike back.

Animal is a depiction of female rage at its rawest, and a visceral exploration of the fallout from a male-dominated society. 
About Lisa Taddeo
Lisa Taddeo is the author of Three Women. She has contributed to The New York Times, New York, Esquire, Elle, Glamour, and many other publications. Her nonfiction has been included in the anthologies Best American Political Writing and Best American Sports Writing, and her short stories have won two Pushcart Prizes. She lives with her husband and daughter in New England.
Buy the Book:
Owl's Nest Books | Shelf Life Books
Borrow the Book from the Library:
Curiouser?
Articles:
Fatal Attraction: Inside the intoxicating depravity of Lisa Taddeo's Animal -Entertainment Weekly
Three Women author Lisa Taddeo's debut novel is fearless. So what is she afraid of? -Los Angeles Times
Lisa Taddeo is Exposing the Raw Reality of Women's Sexual Desires and Traumas - Time
 Review: