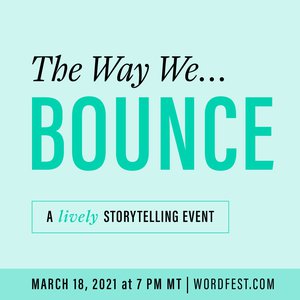 The Way We Bounce
Mar 18 @ 7 PM - 8:30 PM MT
Online

For most of us, this past year has been difficult, if not life-changing. Which is why we think our March storytelling event, The Way We Bounce (as in bouncing back) is a must watch showcasing five authors whose new books are proof of the resilience of the human spirit: Cathrin Bradbury, Kaleb Dahlgren, Kim Echlin, Jillian Horton, and Darrel J. McLeod. 
Each writer will perform an open-mic style monologue on the theme, as well as answer questions from the host, CEO and Creative Ringleader Shelley Youngblut. The hour-long Imagine On Air event starts at 7:00 p.m. MT (The pre-show starts at 6:50 p.m. MT.) The broadcast on Wordfest.com is free, but if you RSVP, we'll send you a reminder along with easy instructions to help you get set up, as well as our unique Digital Doggie Bag after the event with links and extras from the conversations.
We are grateful to HarperCollins Canada, Penguin Random House Canada, and Douglas & McIntyre for helping us connect with these inspiring writers.
THE STORYTELLERS
About Cathrin Bradbury
Cathrin Bradbury is a Senior News Director at CBC News. She has worked at The Globe and Mail, Metro News (Editor in Chief), and Maclean's magazine. As a leader and top editor of major news organizations and publications, she has launched and run half a dozen magazines, reconceived quality newspapers, and mentored and edited renowned Canadian journalists and authors as well as a new generation of young journalists. She lives in Toronto.
About The Bright Side: Twelve Months, Three Heartbreaks, and One (Maybe) Miracle
"Anyone who has had their life completely gutted and rewired will adore this family story. Bradbury's dark humour and gloriously upbeat voice makes it the perfect antidote to a tough year. I loved it!" –Plum Johnson, author of They Left Us Everything
The hilarious and moving story of how a modern woman's life can change utterly in a single year – and how, even when life whacks you in the head, you can find yourself rewarded with grace.

Cathrin Bradbury's life imploded in the space of a few months. Her beloved parents died, her marriage limped to an end after twenty-five years, her heavily mortgaged house turned against her, and a promising new romance ended in crushing disappointment. 

But somewhere in that year, a new path, or three or four, began to open up. As Bradbury navigates the setbacks, her troubled brother makes an astounding recovery to health and sobriety. She is reunited with her closest childhood friend after a long absence, with deeply satisfying results. She and her four siblings feel their way to becoming a new kind of family without their parents. And her adult children emerge into sharper focus, each gloriously and uniquely themselves. Slowly, she discovers that the path is steep, the view obscured, but there's light ahead. 

Cathartic, hilarious, and profoundly moving, The Bright Side broadens the way we think and talk to each other about the ordinary experiences we all share. A master of the uncomplaining voice, Bradbury combines grace and humanity to look at the world unflinchingly and see what makes it wonderful and absurd at the same time, and to let us all in on the secret.
About Kaleb Dahlgren
Kaleb Dahlgren  is the former assistant captain of the Humboldt Broncos hockey team and one of thirteen survivors of the tragic bus crash. Shortly after getting out of the hospital, Dahlgren began his studies at York University and joined the York Lions varsity hockey team. The founder of Dahlgren's Diabeauties, a program that supports children with type 1 diabetes, Dahlgren shares his message of hope and healing with groups across North America.
About Crossroads: My Story of Tragedy and Resilience as a Humboldt Bronco
"We never know the true meaning of courage until we face it head-on in life: Kaleb's story is truly a story of courage. Crossroads is an amazing book that will take you back to your early days of hockey and sports and make you realize how important community and family really are. I know you will love this book and it will remind you how wonderful our country of Canada really is. Enjoy the read. Crossroads will change your life for the better." – WAYNE GRETZKY
An inspiring story of hope and resiliency
On April 6, 2018, sixteen people died and thirteen others were injured after a bus taking the Humboldt Broncos junior hockey team to a playoff game collided with a transport truck in a rural intersection. The tragedy moved millions of people to leave hockey sticks by their front door to show sympathy and support for the Broncos. People from more than eighty countries pledged millions of dollars to families whose relatives had been directly involved in the accident.
Crossroads is the story of Kaleb Dahlgren, a young man who survived the bus crash and faced life after the tragedy with resiliency and positivity. In this chronicle of his time with the Broncos and the loving community of Humboldt, Saskatchewan, Dahlgren takes a hard look at his experience of unprecedented loss, but also revels in the overwhelming response and outpouring of love from across Canada and around the world. But this book also goes much deeper, revealing the adversity Dahlgren faced long before his time in Humboldt and his inspiring journey since the accident. 
From a childhood spent learning to live with type 1 diabetes to his remarkable recovery from severe brain trauma that astounded medical professionals, Dahlgren documents a life of perseverance, gratitude and hope in the wake of enormous obstacles and life-altering tragedy. 
Dalgren is donating a portion of his proceeds from this book to STARS (Shock Trauma Air Rescue Service).
About Kim Echlin
Award-winning author Kim Echlin lives in Toronto. She is the author of Elephant Winter, Dagmar's Daughter, The Disappeared, (which was nominated for the Scotiabank Giller Prize and won the Barnes & Noble Discover Great New Writers Award for Fiction) and Under the Visible Life. 
About Speak, Silence
From the internationally bestselling and Giller-shortlisted author of The Disappeared, an astounding, poetic novel about war and loss, suffering and courage, and the strength of women through it all.
 
It's been eleven years since Gota has seen Kosmos, yet she still finds herself fantasizing about their intimate year together in Paris. Now it's 1999 and, working as a journalist, she hears about a film festival in Sarajevo, where she knows Kosmos will be with his theatre company. She takes the assignment to investigate the fallout of the Bosnian war — and to reconnect with the love of her life.
 
But when they are reunited, she finds a man, and a country, altered beyond recognition. Kosmos introduces Gota to Edina, the woman he has always loved. While Gota treads the precarious terrain of her evolving connection to Kosmos, she and Edina forge an unexpected bond. A lawyer and a force to be reckoned with, Edina exposes the sexual violence that she and thousands of others survived in the war. Before long, Gota finds her life entwined with the community of women and travels with them to The Hague to confront their abusers. The events she covers — and the stories she hears — will change her life forever.
Written in Kim Echlin's masterfully luminescent prose, Speak, Silence weaves together the experiences of a resilient sisterhood and tells the story of the real-life trial that would come to shape history. In a heart-wrenching tale of suffering and loss and a beautiful illustration of power and love, Echlin explores what it means to speak out against the very people who would do anything to silence you.
About Jillian Horton
Jillian Horton, M.D., is an award-winning medical educator, writer, musician, and podcaster. She completed a residency and a fellowship in internal medicine at the University of Toronto and has held posts as an associate dean and associate head of internal medicine. For sixteen years, she has cared for thousands of patients in an inner-city hospital. During that time, she had three sons and mentored hundreds of students. Horton now leads the development of new programs related to physician wellness, and won the 2020 AFMC–Gold Foundation Humanism award. As a teacher of mindfulness, she is sought after by doctors at all stages of their careers. Long before she was a physician, Horton was a promising writer. She completed a master's in English at the University of Western Ontario before beginning her journey into the heart of medicine.
About We Are All Perfectly Fine: A Memoir of Love, Medicine and Healing
"Her writing is brilliant. And the story of her burnout as a medical doctor is just heartbreaking enough to keep you longing for the resolution you know is coming. Maybe the best thing about this book is that Jillian Horton allows you to grow as she grows, while saving you the pain of the struggle. But you will grow." –Alan Alda
When we need help, we count on doctors to put us back together. But what happens when doctors fall apart?
Funny, fresh, and deeply affecting, We Are All Perfectly Fine is the story of a married mother of three on the brink of personal and professional collapse who attends rehab with a twist: a meditation retreat for burned-out doctors.
Jillian Horton, a general internist, has no idea what to expect during her five-day retreat at Chapin Mill, a Zen centre in upstate New York. She just knows she desperately needs a break. At first, she is deeply uncomfortable with the spartan accommodations, silent meals and scheduled bonding sessions. But as the group struggles through awkward first encounters and guided meditations, something remarkable happens: world-class surgeons, psychiatrists, pediatricians and general practitioners open up and share stories about their secret guilt and grief, as well as their deep-seated fear of falling short of the expectations that define them. Jillian realizes that her struggle with burnout is not so much personal as it is the result of a larger system failure, and that compartmentalizing your most difficult emotions — a coping strategy that is drilled into doctors — is not useful unless you face these emotions too.
Horton throws open a window onto the flawed system that shapes medical professionals, revealing the rarely acknowledged stresses that lead doctors to depression and suicide, and emphasizing the crucial role of compassion not only in treating others, but also in taking care of ourselves.
About Darrel J. McLeod
Darrel J. McLeod is Cree from Treaty-8 territory in Northern Alberta. Before deciding to pursue writing, he worked as an educator, chief negotiator of land claims for the federal government and executive director of education and international affairs with the Assembly of First Nations. He holds degrees in French literature and education from the University of British Columbia. He currently lives in Sooke, BC, and divides his time between writing and singing in a jazz band.
About Peyakow: Reclaiming Cree Dignity, A Memoir
"Bravo! A job well done. You, my friend, are a very good writer." –Tomson Highway
Mamaskatch, Darrel J. McLeod's 2018 memoir of growing up Cree in Northern Alberta, was a publishing sensation — winning the Governor General's Literary Award for Non-Fiction, shortlisted for many other major prizes and translated into French and German editions. In Peyakow, McLeod continues the poignant story of his impoverished youth, beset by constant fears of being dragged down by the self-destruction and deaths of those closest to him as he battles the bullying of white classmates, copes with the trauma of physical and sexual abuse, and endures painful separation from his family and culture. With steely determination, he triumphs: now elementary teacher; now school principal; now head of an Indigenous delegation to the UN in Geneva; now executive in the Government of Canada — and now a celebrated author.
Brutally frank but buoyed throughout by McLeod's unquenchable spirit, Peyakow — a title borrowed from the Cree word for "one who walks alone" — is an inspiring account of triumph against unimaginable odds. McLeod's perspective as someone whose career path has crossed both sides of the Indigenous/white chasm resonates with particular force in today's Canada.
Buy the Books:
The Bright Side: Twelve Months, Three Heartbreaks, and One (Maybe) Miracle
Owl's Nest Books | Shelf Life Books
Crossroads: My Story of Tragedy and Resilience as a Humboldt Bronco
Owl's Nest Books | Shelf Life Books
Speak, Silence
Owl's Nest Books | Shelf Life Books
We Are All Perfectly Fine: A Memoir of Love, Medicine and Healing
Owl's Nest Books | Shelf Life Books
Peyakow: Reclaiming Cree Dignity, A Memoir
Owl's Nest Books | Shelf Life Books
Borrow the Books from the Library:
The Bright Side: Twelve Months, Three Heartbreaks, and One (Maybe) Miracle
Crossroads: My Story of Tragedy and Resilience as a Humboldt Bronco
Speak, Silence
We Are All Perfectly Fine: A Memoir of Love, Medicine and Healing
Peyakow: Reclaiming Cree Dignity, A Memoir
Curiouser?

Articles: