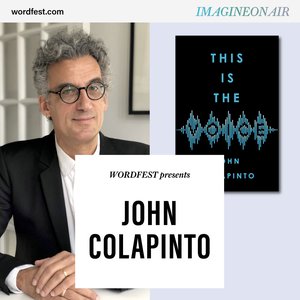 Wordfest presents John Colapinto
Feb 23 @ 7 PM - 8 PM MT
Online

Wordfest's Imagine On Air is pleased to present John Colapinto with his fascinating new book about the human voice and the science of speech, This Is The Voice. The hour-long conversation will start at 7:00 PM MT and will be hosted by Shelley Youngblut, Wordfest's CEO and Creative Ringleader (The pre-show will begin at 6:50 PM.)
This livestream event is free but, if you RSVP, we'll send you a reminder on the day of the show, as well as our unique Digital Doggie Bag after the event with all the links, goodies and references from the conversation.
We are grateful to Simon & Schuster Canada for enabling us to connect you with John Colapinto.
About This Is The Voice
"I didn't realize until I read it that it's the book I've been wanting to read for 30 years. Everything you might want to know, or have wondered about, or didn't even consider about how we speak and listen, exchange information, and the musicality behind all of it is here ... and then some. I couldn't put it down." –DANIEL LEVITIN, author of This Is Your Brain on Music
A New York Times bestselling writer explores what our unique sonic signature reveals about our species, our culture, and each one of us. 

There's no shortage of books about public speaking or language or song. But until now, there has been no book about the miracle that underlies them al: the human voice itself. And there are few writers who could take on this surprisingly vast topic with more artistry and expertise than John Colapinto. Beginning with the novel — and compelling — argument that our ability to speak is what made us the planet's dominant species, he guides us from the voice's beginnings in lungfish millions of years ago to its culmination in the talent of Pavoratti, Martin Luther King Jr., and Beyoncé — and each of us, every day.

Along the way, he shows us why the voice is the most efficient, effective means of communication ever devised: it works in all directions, in all weathers, even in the dark, and it can be calibrated to reach one other person or thousands. He reveals why speech is the single most complex and intricate activity humans can perform. He travels up the Amazon to meet the Piraha, a reclusive tribe whose singular language, more musical than any other, can help us hear how melodic principles underpin every word we utter. He heads up to Harvard to see how professional voices are helped and healed, and he ventures out on the campaign trail to see how demagogues wield their voices as weapons.

As far-reaching as this book is, much of the delight of reading it lies in how intimate it feels. Everything Colapinto tells us can be tested by our own lungs and mouths and ears and brains. He shows us that, for those who pay attention, the voice is an eloquent means of communicating not only what the speaker means, but also their mood, sexual preference, age, income, even psychological and physical illness.

It overstates the case only slightly to say that anyone who talks, or sings, or listens will find a rich trove of thrills in This Is the Voice.
About John Colapinto
John Colapinto is an award-winning staff writer at The New Yorker. He is the author of the New York Times bestseller As Nature Made Him. He lives in New York City.
Buy the Book:
Owl's Nest Books | Shelf Life Books
Borrow the Book from the Library:
Curiouser?
Articles:
The day my voice broke: what an injury taught me about the power of speech –The Guardian
'Voice' Author Explores Accents, Language And What Makes A Tone Sexy –NPR
The human voice, in all its idiosyncratic glory –Science
Opinion: How do we explain our sudden aural fixation? –The Globe and Mail
Accents, Dialects, and Discrimination -The Walrus
Reviews: