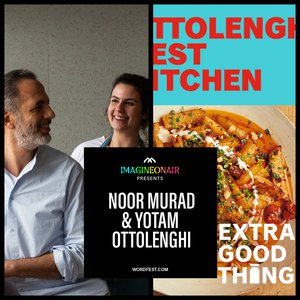 Imagine on Air presents Noor Murad & Yotam OttolenghiHosted by Julie Van Rosendaal
Dec 07 @ 7 PM - 8:15 PM MT
Online

Now we're cooking! Imagine on Air presents Noor Murad and Yotam Ottolenghi with the second installment in their Ottolenghi Test Kitchen book series, Extra Good Things.
The hour-long conversation, hosted by Calgary food writer Julie Van Rosendaal, starts at 7 PM MT (the pre-show begins at 6:50 PM.  Never one to believe there can be too many cooks in the kitchen, rumour has it Julie willl be virtually cooking a recipe with Murad and Ottolenghi! The event is free – and, if you RSVP, we'll send you a reminder on the day of the show, along with the list of ingredients to cook along with them. You'll also be able to watch the show on demand until Dec. 31, 2022.
We're grateful to Penguin Random House Canada for making this connection possible.
About Ottolenghi Test Kitchen: Extra Good Things
Yotam Ottolenghi, Noor Murad, and the test kitchen superteam behind the New York Times bestseller Shelf Love deliver maximum-flavor recipes with make-ahead condiments, sauces, and more toppings that transform any dish into an Ottolenghi favorite.

Extra Good Things is all about the secret culinary weapons – condiments, sauces, dressings, and more – that can make a good meal spectacular. The abundant, vegetable-forward recipes in this collection give you a delicious dish plus that special takeaway – a sauce, a sprinkle, a pickle! – that you can repurpose time and time again in other recipes throughout the week, with limitless opportunity. These extras help you stock your fridges and pantries the Ottolenghi way, so you can effortlessly accessorize your plates with pops of texture and color, acidity and heat, and all the magical flavor bombs that keep you coming back for more.

And this is where the fun really begins, with extras like marinated feta, featured in a dish of oven-braised chickpeas, that can then be spooned onto your favorite salad or swirled into soup. Slow-cooked za'atar tomatoes top a polenta pizza for dinner but will also make the best-ever bruschetta or pasta sauce. Or a crispy, crunchy panko topping full of ginger, shallots, and sesame that you first meet on soba noodles but you'll want to put on... well, just about everything.

Whether it's a spicy kick of pickled chile or an herbaceous salsa to lighten and brighten, Extra Good Things shows you how to fill your kitchen with adaptable, homemade ingredients that will make any dish undeniably "Ottolenghi."
About Noor Murad
Noor Murad is a Bahraini-born chef whose international work experience eventually brought her to the Ottolenghi family in 2016. She developed recipes for the books Falastin and Ottolenghi Flavor, as well as for Ottolenghi's MasterClass series and other online Ottolenghi publications. Murad's Bahraini roots have a strong influence on her cooking, with Arabic, Persian, and Indian flavors making a prominent appearance in her recipes.
About Yotam Ottolenghi
Yotam Ottolenghi is a seven-time New York Times best-selling cookbook author who contributes to The New York Times Food section and has a weekly column in The Guardian. His Ottolenghi Simple was selected as a best book of the year by NPR and The New York Times; Jerusalem, written with Sami Tamimi, was awarded Cookbook of the Year by the International Association of Culinary Professionals, and named Best International Cookbook by the James Beard Foundation. He lives in London, where he co-owns an eponymous group of restaurants and the fine-dining destinations Nopi and Rovi. 
About Julie Van Rosendaal
Julie Van Rosendaal is the Calgary-based author of 13 best-selling cookbooks – including her latest, You Are Human and You Need Cake, available exclusively through independent booksellers. Julie's first cookbook, One Smart Cookie, was published soon after she closed her cookie bakery of the same name at the turn of the millennium. She has been the food columnist on the Calgary Eyeopener on CBC Radio One for over 15 years, writes about food for The Globe and Mail, and has been a freelance food writer and columnist for various publications across Canada for over two decades. Van Rosendaal teaches, speaks, and cooks at culinary schools and events virtually and in real life, and has a very engaged audience on her social-media channels.
Curiouser?
10 must-try extras from Ottolenghi Test Kitchen's Extra Good Things -The Happy Foodie