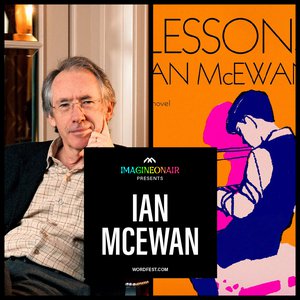 Knopf Canada & Wordfest present Ian McEwan
Hosted by Ian Brown
Dec 05 @ 7 PM - 8:15 PM MT
Online

Join Imagine on Air for an evening with acclaimed British novelist and screenwriter Ian McEwan, in conversation with Canadian journalist and award-winning author Ian Brown. The online conversation with these two stellar Ians will start at 7:00 PM MT. (The pre-show will begin at 6:50 PM.) The show is free, thanks to the generosity of Wordfest's supporters; if you register, you will be sent a link on the day of the show (the link is also good for 72 hours after the show airs).
Thanks to our generous supporters, we are able to present our online shows free of charge. If you enjoy these experiences and want to help connect audiences of all ages to the world's best authors, please consider donating to our Legacy Fund either through our website or during checkout when signing up for this show. The ticket price would have been $10, and the Wordfester team cheers whenever a donation is made.
We are grateful to Penguin Random House Canada for making it possible for us to connect you with Ian McEwan.
About Lessons
When the world is still counting the cost of the Second World War and the Iron Curtain has closed, eleven-year-old Roland Baines's life is turned upside down. 2,000 miles from his mother's protective love, stranded at an unusual boarding school, his vulnerability attracts piano teacher Miss Miriam Cornell, leaving scars as well as a memory of love that will never fade.
Now, when his wife vanishes, leaving him alone with his tiny son, Roland is forced to confront the reality of his restless existence. As the radiation from Chernobyl spreads across Europe, he begins a search for answers that looks deep into his family history and will last for the rest of his life.
From the Suez Crisis to the Cuban Missile Crisis, the fall of the Berlin Wall to the current pandemic and climate change, Roland sometimes rides with the tide of history, but more often struggles against it. Haunted by lost opportunities, he seeks solace through every possible means—music, literature, friends, sex, politics and, finally, love cut tragically short, then love ultimately redeemed. His journey raises important questions for us all. Can we take full charge of the course of our lives without damage to others? How do global events beyond our control shape our lives and our memories? And what can we really learn from the traumas of the past?
Epic, mesmerising and deeply humane, Lessons is a chronicle for our times—a powerful meditation on history and humanity through the prism of one man's lifetime.
About Ian McEwan
Ian McEwan is the critically acclaimed author of seventeen novels and two short story collections. His first published work, a collection of short stories called First Love, Last Rites, won the Somerset Maugham Award. His novels include The Child in Time, which won the 1987 Whitbread Novel of the Year Award; The Cement Garden; Enduring Love; Amsterdam, which won the 1998 Booker Prize; Atonement; Saturday; On Chesil Beach; Solar; Sweet Tooth; The Children Act; Nutshell; and Machines Like Me, which was a No. 1 bestseller. Atonement, Enduring Love, The Children Act and On Chesil Beach have all been adapted for the big screen.
About Host Ian Brown
Ian Brown is an acclaimed feature writer for The Globe and Mail. He is also the award-winning author of The Boy in the Moon: A Father's Search for His Disabled Son, and Sixty, A Diary of My Sixty-First Year. He lives in Toronto.
Curiouser?