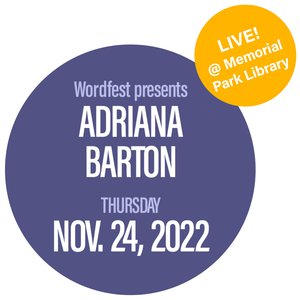 Wordfest presents Adriana BartonHosted by Erin Thrall
Nov 24 @ 7 PM - 8:15 PM MT
Memorial Park Library, 2nd Floor
1221 2 St SW
Wordfest is thrilled to present Adriana Barton and her captivating new book that blends science and memoir Wired for Music: A Search for Health & Joy Through the Science of Sound. The 75-minute conversation will start at 7 PM MT and will be hosted by singer and healing arts advocate Erin Thrall. It will be followed by an audience Q & A and book signing. 
We are grateful to Greystone Books for making it possible for us to connect you with Adriana Barton.
About Wired for Music
In this captivating blend of science and memoir, a health journalist and former cellist explores music as a source of health, resilience, connection, and joy. 
Music isn't just background noise or a series of torturous exercises we remember from piano lessons. In the right doses, it can double as a mild antidepressant, painkiller, sleeping pill, memory aid – and enhance athletic performance while supporting healthy aging. Though music has been used as a healing strategy since ancient times, neuroscientists have only recently discovered how melody and rhythm stimulate core memory, motor, and emotion centers in the brain. But here's the catch: We can tune into music every day and still miss out on some of its potent effects. 
Adriana Barton learned the hard way. Starting at age five, she studied the cello for nearly two decades, a pursuit that left her with physical injuries and emotional scars. In Wired for Music, she sets out to discover what music is really for, combing through medical studies, discoveries by pioneering neuroscientists, and research from biology and anthropology. Traveling from state-of-the-art science labs to a remote village in Zimbabwe, her investigation gets to the heart of music's profound effects on the human body and brain. Blending science and story, Wired for Music shows how our species' age-old connection to melody and rhythm is wired inside us. 
About Adriana Barton 
Adriana Barton was a staff reporter at The Globe and Mail, focused on health and medicine, and has contributed to Utne, Azure, and the San Francisco Bay Guardian. She studied the cello professionally for seventeen years before becoming a journalist. She lives in Vancouver, BC. Visit her website at https://adrianabarton.com/ 
About Host Erin Thrall
Erin Thrall is a Calgary-based singer, concert producer and advocate of the arts in education and healthcare. She has sung from an early age in various settings and holds degrees in voice performance from McGill's Schulich School of Music and the Université de Montréal. Thrall became immersed in Quebec's rich music scene as soloist and with ensembles such as the Studio de musique ancienne de Montréal and La Chapelle de Québec. She cofounded a multi-genre concert series at the historic Erskine & American Church in conjunction with the Musée des Beaux Arts de Montréal. Thrall has experienced and witnessed the profound healing aspects of music as well as the cost of 'high-performance' for many musicians.
In recent years, she served as Outreach Director of the Instrumental Society of Calgary, bringing music into healthcare settings amidst the expanding conversation about music in medicine. With many others, Thrall embraces diversity, longstanding wisdom, and scientific discovery to revisit how, why and where we make music. 
Curiouser?
• Adriana Barton's nonfiction debut documents her musical odyssey -Quill & Quire 
• Growing Up Hippy –The Utne Reader