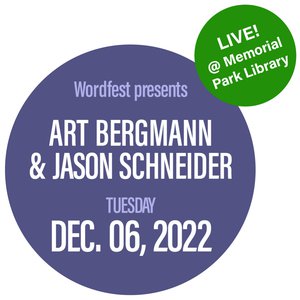 Wordfest presents Art Bergmann & Jason Schneider
Dec 06 @ 7 PM - 8:15 PM MT
Memorial Park Library, 2nd Floor
1221 2 St SW
Wordfest is chuffed to present music writer Jason Schneider for the Calgary launch of  The Longest Suicide: The Authorized Biography of Art Bergmann. The show – featuring both the acclaimed biographer and his iconic subject – will be hosted by Calgary journalist Mary-Lynn Wardle and starts at 7pm MT. This not-to-be-missed celebration includes an audience Q&A and book signing with Jason and Art.  
We are grateful to Anvil Press for making Wordfest's last in-person event of 2022 possible.
About The Longest Suicide: The Authorized Biography of Art Bergmann
The story of Art Bergmann's career is perceived by many to be a succession of failures, but the story of Art's life? If Art doesn't have the best story, it is always the most magical." –Michael Turner, author of Hard Core Logo
As Canada's punk poet laureate, Art Bergmann has been tearing up stages, and terrifying the music industry, for half a century. Often referred to as "Canada's Lou Reed," Art's story is one of rock and roll's great tales untold. Until now. From his days helping to lay the foundation of the Vancouver punk scene with The K-Tels, to his acclaimed solo work in the '80s and '90s, and a late career resurgence that culminated with being named to the Order of Canada, The Longest Suicide chronicles every unlikely twist and turn Art's life has taken. 
Working with veteran music journalist Jason Schneider, Art lays it all out in his own inimitable way, with dozens of people who took part adding their own voices to corroborate (and sometimes dispute) the often-incredible chain of events. With cameos by John Cale, Bob Rock, The Clash, Bob Geldof, and many others, The Longest Suicide is both a triumphant story of personal survival, as well as a unique glimpse inside the rise of alternative rock. Above all, it is a tribute to Canada's most unheralded singer-songwriter, whose greatness is only now being widely recognized.
About Jason Schneider
Jason Schneider has written for Exclaim!, The Globe & Mail, The Toronto Star, Paste, American Songwriter, Relix, Shindig and many other media outlets. He is the co-author of Have Not Been The Same: the CanRock Renaissance 1985-1995, and his other books include Whispering Pines: the Northern Roots of American Music, and the novel 3,000 Miles. He currently lives in Kitchener, Ontario.
About Art Bergmann
Vancouver-born singer-songwriter Art Bergmann's career has spanned five decades. His bands included the infamous Young Canadians and Poisoned; his later solo albums include Crawl With Me and Design Flaw. After going to ground for years, Bergmann emerged to tenaciously create and release music after major label support and radio play evaporated, including Late Stage Empire Dementia in 2021, and Death of a Siren, a tribute to his wife of three decades, Sherri Decembrini, who died unexpectedly in March, 2022. Bergmann received the Order of Canada in 2022 for his "indelible contributions to the Canadian punk scene and his thought-provoking discourse on social, gender, and racial inequalities."
About Host Mary-Lynn Wardle
Mary-Lynn Wardle is a Bragg Creek writer whose life changed at 17 when she saw Art Bergmann's Young Canadians live in Calgary, inspiring her to start her own bands, one of which, The Funeral Factory, hit Top Ten on the campus charts across the country. The two have been sandpaper buddies for over three decades. Wardle has written about her passions, including music, horses, books, and the great outdoors for nearly 40 years in The Calgary Herald, FFWD, Western Horseman, and many others before finding her forever home with theYYSCENE.
Curiouser?
In a new Art Bergmann biography, the wild, wild, life of a genuinely committed rock-n-roller gets its due. –The Star