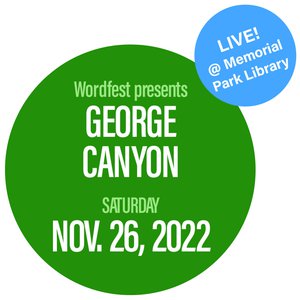 CANCELLED

: Wordfest presents George Canyon

Simon & Schuster Canada and Wordfest regret to announce George Canyon's Nov. 26 book event has been cancelled due to unforeseen circumstances. All ticket holders will receive a complete refund through Showpass, Wordfest's ticketing partner. George sends along his very best wishes and gratitude to all his fans for their support of My Country.
About My Country 
An incredible life story. From overcoming the challenges of Type 1 diabetes to fulfilling his dreams of becoming a real-life cowboy and country music star, George Canyon is one of Canada's finest, and My Country is an awe-inspiring memoir." –JOHNNY REID, multiplatinum-selling artist, Juno and CCMA Award winner
From Juno and Canadian Country Music Award winner George Canyon comes a heartfelt and candid memoir charting his humble beginnings in rural Nova Scotia, the hard-won success he found under the bright lights of Nashville, Tennessee, and all the life lessons he learned on and off the road that ultimately led him home. 
 
Today, George Canyon is a Platinum Award–winning country musician, known for hits such as "Good Day to Ride," "I Want You to Live," and songs that tell stories about family, love, faith, and having a good drink every now and then. 
 
But growing up in Pictou County, Nova Scotia, among his close-knit family of grandparents, aunts, and uncles, George wanted nothing more than to be an astronaut. He was always drawn to music, whether it was the hymns he belted out from the church pew or the old guitar he strummed his first notes on at the tender age of five, but it was possibility of a life in the stars that drove him. 
 
First, though, he had to learn to fly a plane on Earth, so as soon as he turned twelve, he joined the Air Cadets, following a rich family tradition of serving one's country. Just two years later, George's big dreams of being a pilot came crashing to the ground when he was diagnosed with type 1 diabetes, a disease that meant a lifetime of measuring his food, testing his sugar levels, and taking insulin. And with limited treatment options available in the 1980s, the diagnosis ruled out the air force. Devastated as he was, deep down George knew that there was a greater plan for his life. 
 
When a snap decision to audition for a musical led to an offer to join a local country band, everything changed: George found his calling. It would be years of hard work and sacrifice—touring dive bars across the country and working multiple jobs – but with the unwavering support of his family and his deep sense of faith, George got his big break in 2004 when he landed a spot on Nashville Star, a singing competition TV show. From there, he was catapulted onto the world stage. 
 
With his natural gift for spinning a good tale and his signature humour and honesty, George recounts his musical journey from small-town Nova Scotia to the big city of Nashville, Tennessee, and how his life came full circle when he returned to Canada – this time, to the wide plains of Alberta. At its heart, this memoir is a love song to a way of life that's rooted in family, faith, and place, and a reminder to never give up on your dreams. 
About George Canyon
George Canyon is an award-winning Canadian country and western singer-songwriter. Born in Pictou County, Nova Scotia, he got his big break as the runner-up on the second season of Nashville Star in 2004 and with the subsequent release of his debut album, One Good Friend, which went Platinum. In total, he has recorded twelve studio albums, won numerous awards, including two Junos and seven Canadian Country Music Awards, and been nominated for many others. Over the years, he has collaborated with musical greats such as Richard Marx and Kenny Rogers and been inducted into the Nova Scotia Country Music Hall of Fame; he is also the anthem singer for the Calgary Flames.
In addition to his musical career, George is a spokesperson for the Juvenile Diabetes Research Foundation and a Colonel Commandant of the Royal Canadian Air Cadets. In 2012, he was recognized with the Queen's Diamond Jubilee Medal in honour of his ongoing work with the Air Cadets and other charities. Above all, he is a proud father and devoted husband. He lives in Alberta. 
About Host Tom Phillips
Tom Phillips is a Calgary-based singer/songwriter and band leader. He also worked for many years as a bookseller. With 10 albums to his credit and hundreds of original songs, his writing has been influenced as much by literature as it has been by country, folk and roots music. First with his band The Men of Constant Sorrow and now with Tom Phillips & the D.T.s, Tom performs regularly in music clubs locally and across the land.