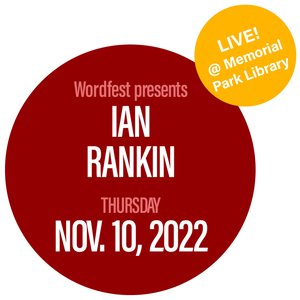 Wordfest presents Ian RankinHosted by Paul Karchut
Wordfest is delighted to present the always immensely entertaining Ian Rankin and his latest John Rebus thriller: A Heart Full of Headstones. This 75-minute show, hosted by CBC Daybreak Alberta's Paul Karchut, will start 7 PM MT and includes an audience Q&A and book signing.
We are grateful to HBG Canada for making it possible for us to connect you with Ian Rankin.
About A Heart Full of Headstones
The brand-new John Rebus thriller from the #1 international bestseller Ian Rankin.
John Rebus stands accused: on trial for a crime that could put him behind bars forthe rest of his life. It's not the first time the legendary detective has taken the law into his own hands, though it might be the last.But what drove a good man to cross the line? Detective Inspector Siobhan Clarke may well find out. Clarke is tasked with the city's most explosive case in years, an infamous cop, at the centre of decades of misconduct, has gone missing. Finding him will expose not only her superiors, buther mentor John Rebus. And Rebus himself may not have her own interests at heart, as the repayment of a past debt places him in the crosshairs of both crime lords and his police brethren. One way or another, a reckoning is coming – and John Rebus may be hearing the call for last orders....
About Ian Rankin
Sir Ian Rankin is the multimillion-copy worldwide bestseller of more than 30 novels and creator of John Rebus. His books have been translated into 36 languages and have been adapted for radio, the stage and the screen. Rankin is the recipient of four Crime Writers' Association Dagger Awards, including the Diamond Dagger, the U.K.'s most prestigious award for crime fiction. In the United States, he has wonthe celebrated Edgar Award and been shortlisted for the Anthony Award. In Europe, he has won Denmark's Palle Rosenkrantz Prize, the French Grand Prix du Roman Noir and the German Deutscher Krimipreis.
The recipient of honorary degrees from universities across the U.K., Rankin is a Fellow of The Royal Society of Edinburgh and a Fellow of The Royal Society of Literature and was knighted for his services to literature and charities in 2022.
About Host Paul Karchut
Paul Karchut is the host of Daybreak Alberta, the province's weekend morning show on CBC Radio One. Karchut was the director of the Calgary Eyeopener, having spent time as the associate producer and technician on the show. He brought his love of skiing and the outdoors to the airwaves with his weekly Real Ski Report and summer Outdoor Reports. During his time at CBC Calgary, Karchut has worked on many side projects, including his role as CBC Radio's national car columnist with his weekly feature "Karchut on Cars," six years of teaching broadcasting students at Mount Royal University, a stint with CBC Calgary's Filipino Bureau, and producing the Calgary Eyeopener's award-winning and groundbreaking "walking show" broadcasts.
When not at work, you'll find Paul in the mountains, enjoying nature and time with his family.