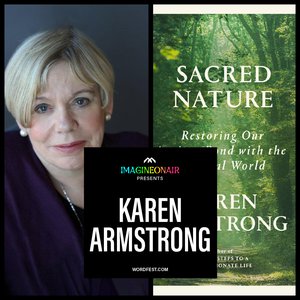 Wordfest presents Karen Armstrong
Dec 08 @ 7 PM - 8:15 PM MT
Online

This is exactly the show our collective souls need now. Imagine on Air presents Karen Armstrong and her thought-provoking new book, Sacred Nature: Restoring Our Ancient Bond With the Natural World, recently named a Best Book of 2022 by The New Yorker. The online show will start at 7:00 PM MT and will be hosted Pam Rocker. (The pre-show will begin at 6:50 PM.) 
Thanks to our generous supporters, we are able to present our online shows free of charge. If you enjoy these experiences and want to help connect audiences of all ages to the world's best authors, please consider donating to our Legacy Fund either through our website or during checkout when signing up for this show. The ticket price would have been $10, and the Wordfester team cheers whenever a donation is made.
We are grateful to Penguin Random House Canada for making it possible for us to connect you with this extraordinary religious historian and deep thinker.
About Sacred Nature
A profound exploration of the spiritual power of nature — and an urgent call to reclaim that power in everyday life.

Since the beginning of time, humankind has looked upon nature and seen the divine. In the writings of the great thinkers across religions, the natural world inspires everything from fear to awe to tranquil contemplation; God, or however one defined the sublime, was present in everything. Yet today, even as we admire a tree or take in a striking landscape, we rarely see nature as sacred.

In this deeply powerful book, the bestselling historian of religion Karen Armstrong re-sacralizes nature for modern times. Drawing on her vast knowledge of the world's religious traditions, she vividly describes nature's central place in spirituality across the centuries: from the Book of Job to St. Thomas Aquinas, from Lao Tzu to Wordsworth, and from the Stoics to Jainism and beyond. Throughout, she reveals how we have lost our sense of the divine, and how we can get it back.

About Karen Armstrong
Karen Armstrong is the author of numerous books on religious affairs, including The Case for God, A History of God, The Battle for God, Holy War, Islam, Buddha and The Great Transformation, as well as a memoir, The Spiral Staircase. Her work has been translated into forty-five languages. In 2008 she was awarded the TED Prize and began working with TED on the Charter for Compassion, created online by the general public, and crafted by leading thinkers in Judaism, Christianity, Islam, Hinduism, Buddhism and Confucianism. The charter was launched globally in the fall of 2009. In 2013 Armstrong was awarded the British Academy's inaugural Nayef Al-Rodhan Prize for Global Cultural Understanding and in 2017 the Princess of Asturias Prize for Social Sciences. She lives in London, England.
About Host Pam Rocker
Pam Rocker is an atypical activist, speaker, writer, musician, and host of Wordfest's Imagine on Air's The Way We series. From Pride to politics, she has worked for over a decade for the full inclusion of LGBTQ2S+ people in faith communities and beyond. Rocker is the playwright of heterophobia, was chosen as one of Avenue Magazine's Top 40 Under 40, and named one of the top 30 activists in Canada. She is currently the Director of Affirming Connections and a DEI Consultant and resides with her uber talented wife, two teens, and scraggly dog.
Curiouser?
To avoid catastrophe, we must regain our respect for nature. –The Globe and Mail
Myth Translated into Action: A Plea for Practical Commitment to Our Planet. –Lit Hub
The Novel That Made Karen Armstrong Quit Her Reading Group. –The New York Times